Car Classic serves as a reminder that behind every beautifully designed car is an innovative and talented designer—one most likely educated at ArtCenter College of Design. For more than a decade, ArtCenter's Car Classic event has examined automotive culture and vehicle architecture through the lens of design.
More than just another high-profile car show, this popular public event celebrates the very best in automotive design, showcasing the College's strong ties to industry and honoring many of our noteworthy alumni. This year, ACCD celebrate handcrafted vehicles from the past and present and will hear from the people who build and collect them. Nothing can replace the human touch in creating works of amazing beauty and design. Even in this digital age, skilled makers combine traditions of the past with future technologies to produce truly exceptional results.
Join auto enthusiasts, art aficionados, tinkerers, builders and weekend adventurers at ArtCenter College of Design for a daylong celebration, providing attendees an up-close-and-personal look at a carefully curated selection of rare and unique coach built classics, hot rods, custom cars and futuristic concepts.

REGISTRATION
Attendees of Car Classic 2016 will take part in a concours event unlike any other. Highlights include: a curated field of inspired vehicles; emcees Dave Kunz, Barry Meguiar and Ed Justice Jr.; interviews with transportation designers and car collectors; and tours of ArtCenter's landmark campus facilities.
ONLINE REGISTRATION OPEN UNTIL FRIDAY, OCTOBER 23 AT MIDNIGHT GENERAL ADMISSION (includes off-site parking, complimentary shuttle service and 11 a.m. access
Onsite (day of) – $40, Online (advanced purchase required) – $30, Education rate (purchase day of with valid school ID) – $20, ArtCenter alumni (alumni status will be verified) – $20, Junior (kids 13-17 years old) – $10, Children 12 and under – Free, ArtCenter students, faculty and staff (with valid ID) – Free
On Campus Parking Onsite (day of) – $30 per vehicle Online (advanced purchase required) – $25 per vehicle SPECIAL
GUESTS EMCEES
Ed Justice Jr., President and CEO, Justice Brothers, Inc. and co-host, Motor Trend Radio Dave Kunz, Automotive Reporter, KABC-TV Channel 7 Los Angeles Barry J. Meguiar, President and CEO, Meguiar's, Inc. and host, Car Crazy Radio
BUILT BY HAND INTERVIEWS
Randy Grubb and Gary Wales
MEET THE DESIGNERS PANEL DISCUSSION
Dave Marek, Freeman Thomas, Franz von Holzhausen, Geoff Wardle – moderator
JUDGES
Kevin Beard (BS 92), Dennis Campbell, Marek Djordjevic (BS 91), Fireball Tim (BS 89), Miguel Galluzzi (BS 86), Jason Hill (BS 90), Derek Jenkins (BS 93), Tisha Johnson (BS 99), Dennis Little (BS 68), Dave Marek (BS 87), Jordan Meadows, Jae Min (BS 94), Chuck Pelly (BS 58), Richard Pietruska (BS 70), Rich Plavetich, Christopher Rhoades (BS 86), Lucian Rosca (BS 89), John Sahs (BS 92), Frank Saucedo (BS 84), Freeman Thomas (BS 83), Franzv Holzhausen (BS 92), Jonathan Ward, Geoff Wardle, Jose Wyzsogrod (BS 96)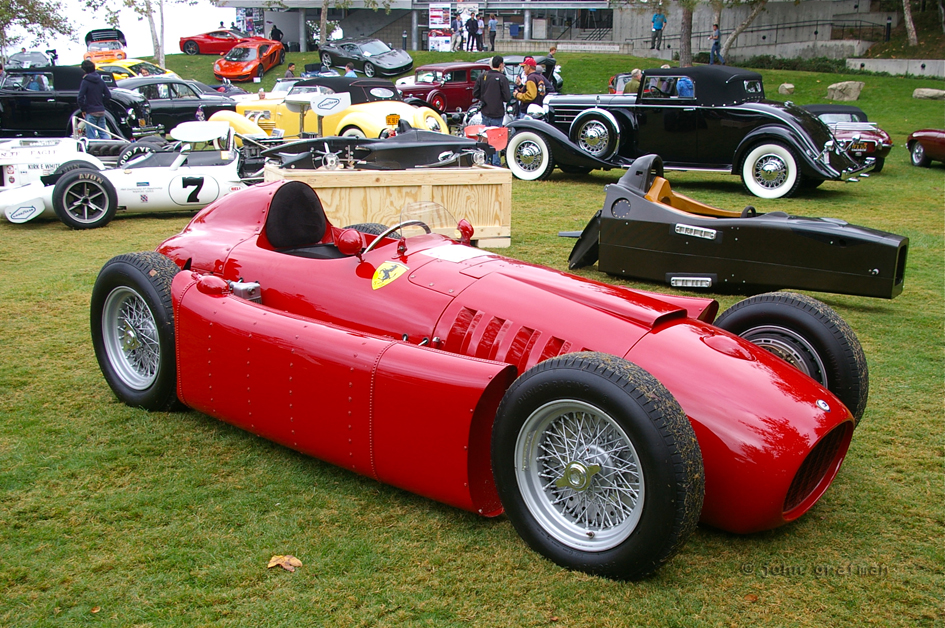 VENUE AND PARKING PARKING AND TRANSPORTATION
The show opens early for sponsors, patrons and special guests with parking available directly at ArtCenter's Hillside Campus. Anyone arriving without a special parking pass will be redirected to our off-campus location. ArtCenter will provide free parking and shuttle service to-and-from the Rose Bowl (Lot K) for general Car Classic attendees. On campus parking can be purchased for an additional fee. Alternatively, guests can take the Metro Gold Line to ArtCenter's South Campus (located 0.5 miles south of the Fillmore Station) where complimentary shuttle service will also be provided. Shuttles will start running at 10:45 a.m. The last shuttle departs ArtCenter's Hillside Campus at 4:30 p.m.
ArtCenter for Kids faculty and students will receive a parking pass to park in the North Lot at Hillside Campus as directed by Security. Limited parking will also be available in the North Lot to degree program students and faculty who need access to campus resources. All volunteers and event staff will receive special parking information before the event. Please call 626 396-2304 if you have any questions.
DIRECTIONS
ArtCenter Hillside Campus (event location, reserved parking only) 1700 Lida Street, Pasadena, CA 91103 Rose Bowl, Lot K (off-campus parking, free shuttle service) 1001 Rose Bowl Drive , Pasadena, CA 91103 ArtCenter South Campus (alternative shuttle service location) 950 S. Raymond Avenue, Pasadena, CA 91105 Metro Gold Line Fillmore Station (walking distance to South Campus) 95 Fillmore Street, Pasadena, CA 91105
Related Images: