RJ Scaringe, CEO of Rivian Automotive, is many things, but he freely admits that he's no designer. However, he did manage to snag the right people from the industry. Fortunately, the talent didn't stop at the design studio.
The Rivian R1T (the pick-up truck,) and the R1S (SUV) have some lofty specs associated with both. All electric, up to 400 miles on a charge, 0-60 in 3 seconds, a 3-foot wading depth, and able to leap tall buildings in a single bound. Well, it can't leap buildings, but with an approach ramp angle of 34 degrees (30 degree departure), the Rivian R1T might be able to scale them.
Rivian claims the R1T can handle a 1,750-pound payload, and tow 11,000 pounds of whatever you want. In other words, other truck owners won't be laughing their butts off. In fact, when gas prices eventually increase, the R1T will be looking pretty sweet.
All electric, up to 400 miles on a charge, 0-60 in 3 seconds
All of this comes with 750-horsepower, which the competition can't match. Not to mention a hefty 10,326 ft/lbs. of torque.
Dimensionally, this does look like a truck as well, with 14 inches of ground clearance, length is just shy of 18 feet, and this is a hair over 6.5 feet wide.
The gear tunnel holds over 12 cubic feet and the front trunk another 11.6. Combined this can swallow 24 cubic feet on top of what the bed and cab provide.
RJ Scaringe certainly understands the value of good engineering, which is the backbone of any great product. The refinement on the engineering is also reflected in the design development.
Take-Five and see how the Rivian story unfolds.
Article, interview, and images by John Grafman
_______________________________________________________
AutoDesignO: Can you tell us a little bit about your new product?
RJ Scaringe: Okay. We have a truck and an SUV, and they both combine a level of performance, capability, storage, and functionality in a package that delivers great efficiency.
It's something that simultaneously communicates strength from an aesthetics point of view, from a design point of view, but at the same time a very high level of sophistication. What we've done is we've used design in close collaboration with engineering to create a number of really unique features.
Perhaps the most unique on our truck, on our R1T, is a gear tunnel, which goes straight through the side of the vehicle. You can put snowboards, snow skis, stroller, any of those large normally difficult to package objects, very easily into it. We've got a large front truck in the vehicle. The aesthetics, particularly the face of the vehicle, are something that makes a statement. It's very different from what you normally would see.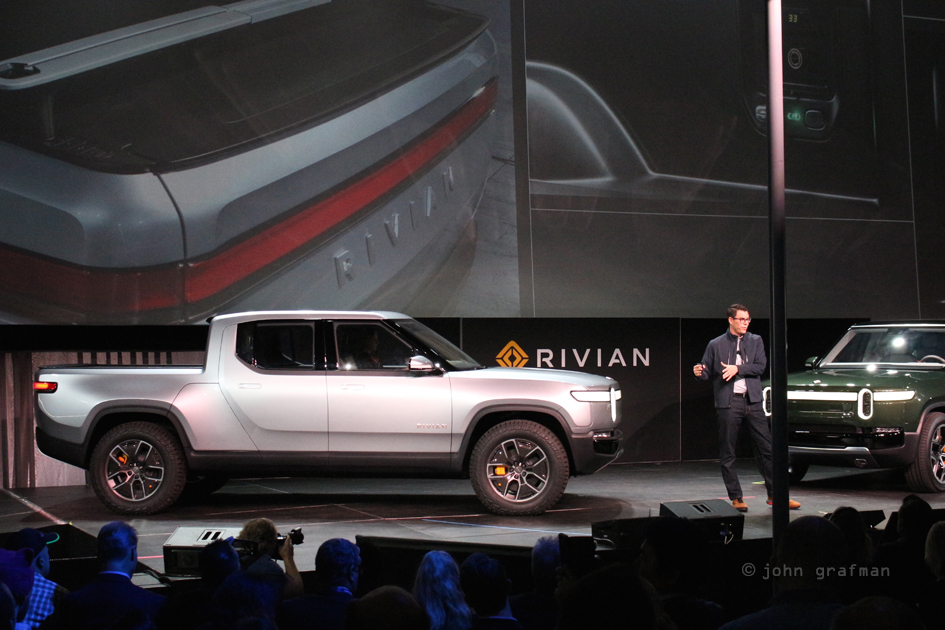 AutoDesignO: Because Rivian is a start-up company, how did you develop your design direction?
RJ Scaringe: I'm an engineer by training. So, we've been focused on the technology for a number of years, the battery system – what we call our skateboard platform, our drive system, all the digital architecture, control systems. As those became more and more mature, we started to put a skin onto that vehicle.
We went through many iterations in some of the early skins… which we won't show. The early vehicles we built were far less refined and sophisticated.
The aesthetics communicating strength, ruggedness, and sophistication
Over the course of the last several years, we've built up an incredible design team led by Jeff Hammoud, who is our VP of Design. Along with him, he's built just a really strong internal capability at developing products that really speak to the brand we're building. The aesthetics communicating that strength and that ruggedness, while still being very sophisticated.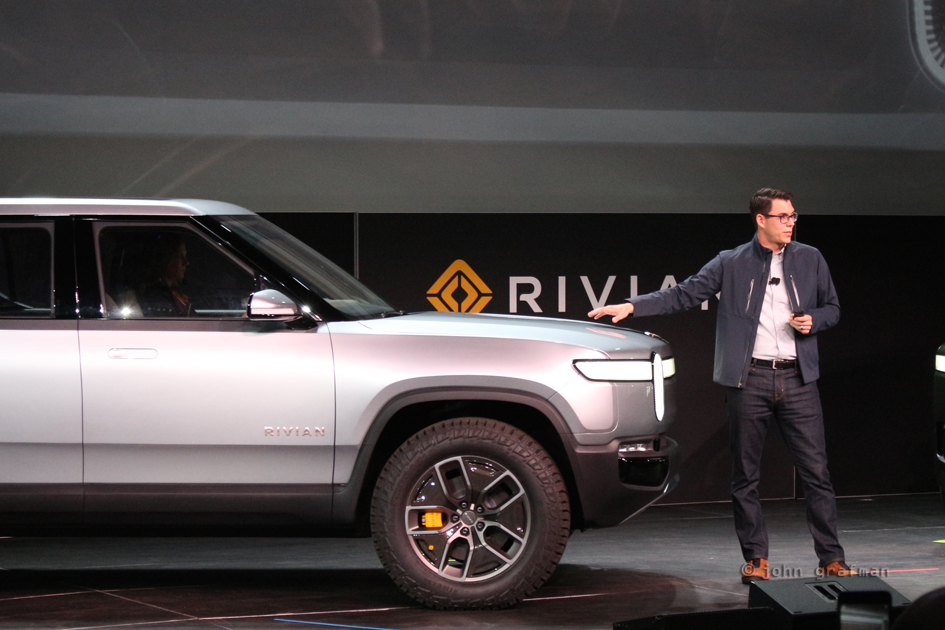 AutoDesignO: What makes your design team unique?
RJ Scaringe: One of the most unique things about our design team, and for that matter the organization, is the way we function. We have a lot of cross-function collaboration. So, instead of the design team working independent from the body engineering team or the interior engineering team, those functions sit in the same room. We have a beautiful, large design studio. Anybody, engineer, designer, cad modeler, surface modeler, that's working on things customers see – the surface of the vehicle, they're closely co-located and closely collaborating.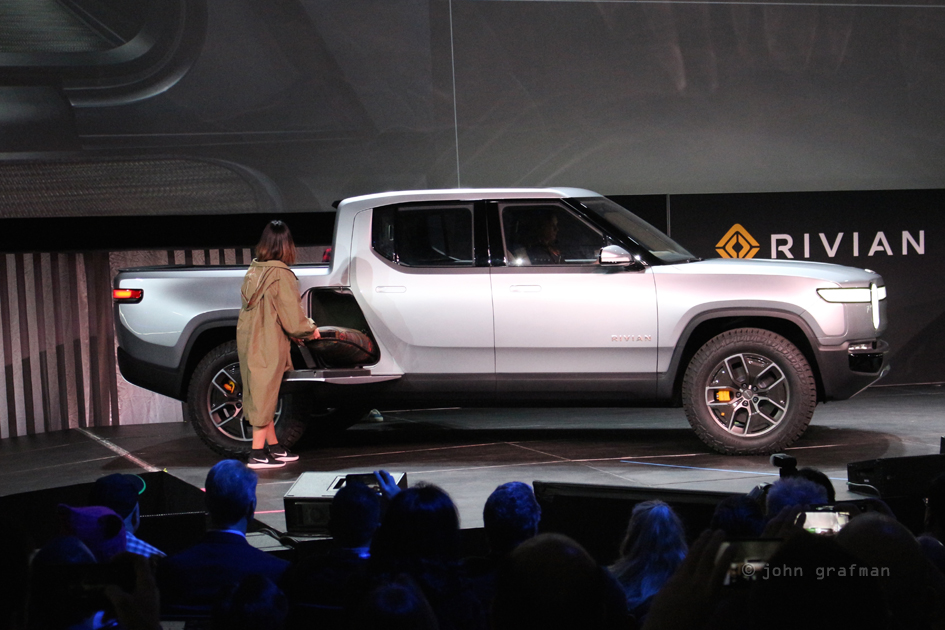 AutoDesignO: As far as the development cycle on this, how long did it take your design team from start to what we see today?
RJ Scaringe: Well, the design of the vehicle, a lot of the work went into packaging, getting our battery packaged into the floor of the vehicle, compressing a tremendous amount of power into a very small package with four motors driving each wheel. That took a lot of time. As that evolved and as that got tighter and tighter, it allowed our surface and our design language to evolve.
What you see here today is a result of iterations around very different proportions, iterations around very different packages.
The gear tunnel has been something we've been working on since almost the beginning. In the early days, it was much less elegantly integrated. As you can see now, it integrates very nicely with the back of the cab and the surface language. That took years and years of time.
Both elegant, but still very functional – RJ Scaringe
Of the designers that have been with us for four or five years have been sketching ways to integrate a gear tunnel – essentially another door right into the side of the vehicle. We've, I think, been very successful at doing something that is both elegant, but still very functional.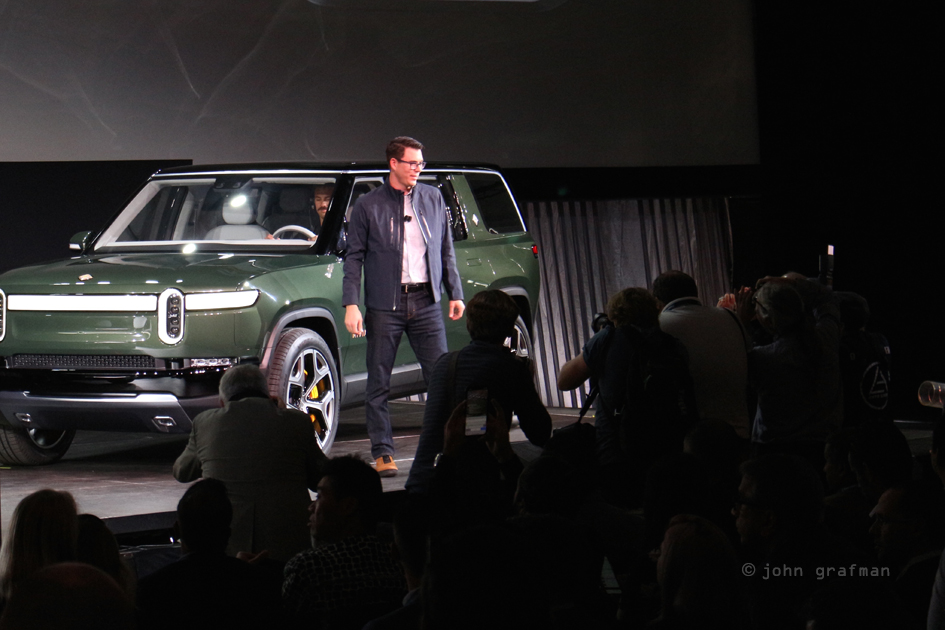 AutoDesignO: One last question. How much personal involvement did you have in the design?
RJ Scaringe: I'm not a designer. I have strong opinions on some things [smiles], but I certainly trust the incredible capability of our design team. I trust Jeff's leadership. Of course, Jeff and I have spent many nights, very late, sitting, looking at the vehicle, going through all the details within the vehicle.
I'm very involved, but I definitely am happy to have Jeff on the team!
Find more at Rivian
Related Images: