AutoDesignO recently had the opportunity to speak with Gael Buzyn, Senior Director of the Audi Design Loft in Malibu, California. Audi was providing the press a preview of the Audi activesphere concept at the intimate environment of the Goya Studios in Los Angeles. Formerly, Gael was a Senior Design Manager at GM before his current position within the Volkswagen Group. To his credit, Gael was the lead interior designer on the Cadillac Elmiraj concept. Currently, his role at Audi is to define the future of premium mobility.
Interview and images by John Grafman
_______________________________________________________
AutoDesignO: Tell us a little bit about the Malibu studio (Audi Design Loft) and how that came about?
Gael Buzyn: The idea was to create a studio that is dedicated to the brand. It was at the time where sadly the DCC, the group design studio in Santa Monica, was being dismantled and Volkswagen went their own way and moved north. We thought that it was a great opportunity for the brand – really trying to get all the essence of the Southern California market and car culture. But, for the brand and not for the group. So, a more focused studio really just working for Audi.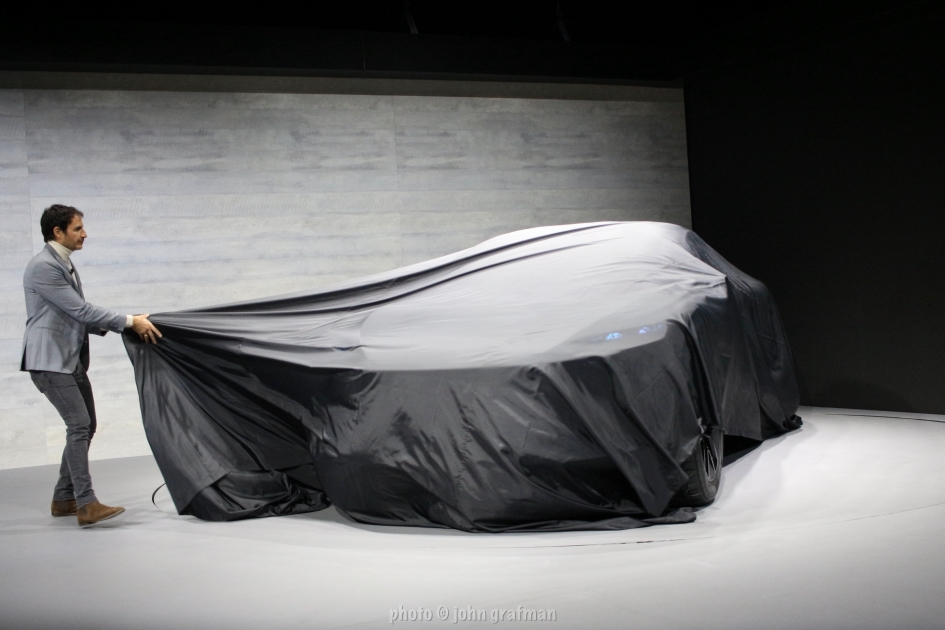 ADO: That studio is departing from tradition by moving more digitally. Is this something you see moving across Audi globally in design, as well as perhaps other manufacturers?
GB: To some extent. I think it would be nice to give a little back story as to why we are digital only. We wanted to be in the midst of, let's say, the quintessential Southern California culture. We thought Malibu was perfect because it's emotionally, a very inspiring place. If you like car culture, you know there's just all sorts of car people who love cars there and you see so many of them, whether it's a classic or a Supercar. Also, our target consumer there. I think we we're really trying to to get into the community and try to understand what kind of vehicle they would need in the future. There's a road, we just spoke about (a canyon drive between Malibu and the Valley), it's a great place if you like to drive. So, it really is kind of the best place.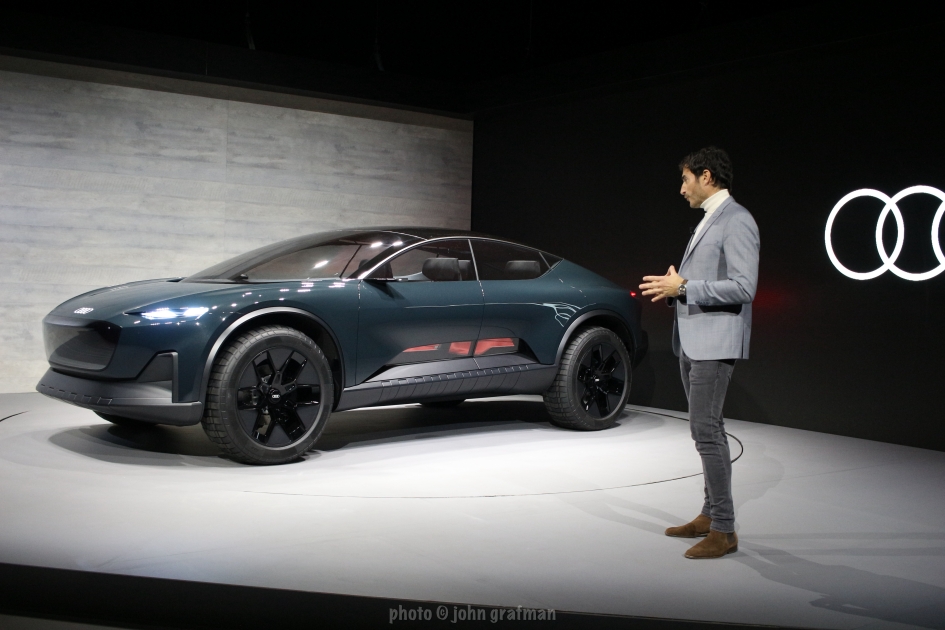 Unfortunately, it's not the most affordable place in terms of real estate. We had to downside from our primary goal of having a studio in LA. The first thing we thought would allow us to get there was, to just go fully digital – get rid of all the modeling, all the clay models, the plates, the workshops. And so, we said, OK, we're going to try going to try and see how it works. I think it was a blessing in disguise because we very quickly learned how to develop a car fully digitally with very talented people, talented CAD, sculptors, talented designers. I add myself to learn how to evaluate in VR.
But the flip side of that, which is a good thing, is suddenly we were extremely, extremely productive and efficient. We could just create a design by sending it overnight to Germany where it would be evaluated by Marc Lichte – Head of Audi Design. Then we would have the feedback the next day. We could adapt it, send it again. Same thing when we develop a show car, we can send the data to the manufacturer of the car – the fabricator, to the engineer – we have to develop all the systems and so it has a lot of benefits. And I think that's really why we decided to go digital.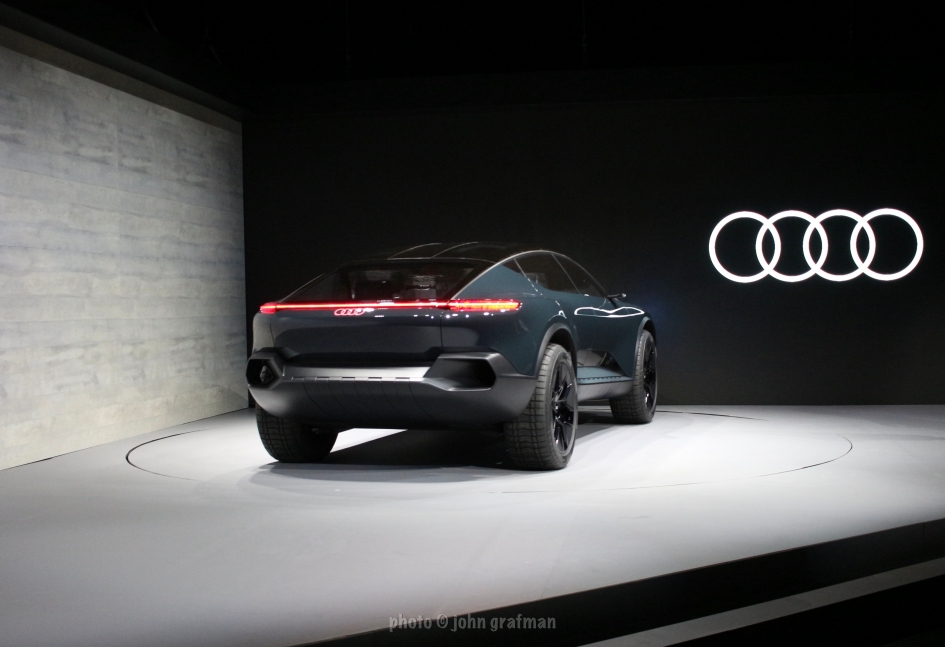 Now to answer your question, I think the good thing is we are a little bit like an experimental laboratory, right. We try things, we try new software. Actually, we are pretty much all of the time the first one to implement the new software when we see it. I was here we try Alpha and Beta versions then report to Germany, and very often they get inspired by the way we work. So, I think to some extent, yeah, I see an influence. I see a transition slowly toward more digitalization where we create more in digital, less in clay. Now I don't believe we're going to get rid of clay completely. I think it's possible, but I think there is still a lot of benefit from delivering physical models to discuss the product with management, with a different stakeholder, in the development of a product. But definitely they reveal less clay-centric in the development of a car.
ADO: Is there anything that you can pinpoint, any design or design element that is a result of being in Malibu?
GB: Yeah, well, as you know a few of the concepts that have been done in the past, we did three concepts actually in the six year we've been operating from Malibu, the PB18 (One of the first concepts to come out of the Malibu facility) team, these guys here and the Audi activesphere that is here today. So, a lot of concepts.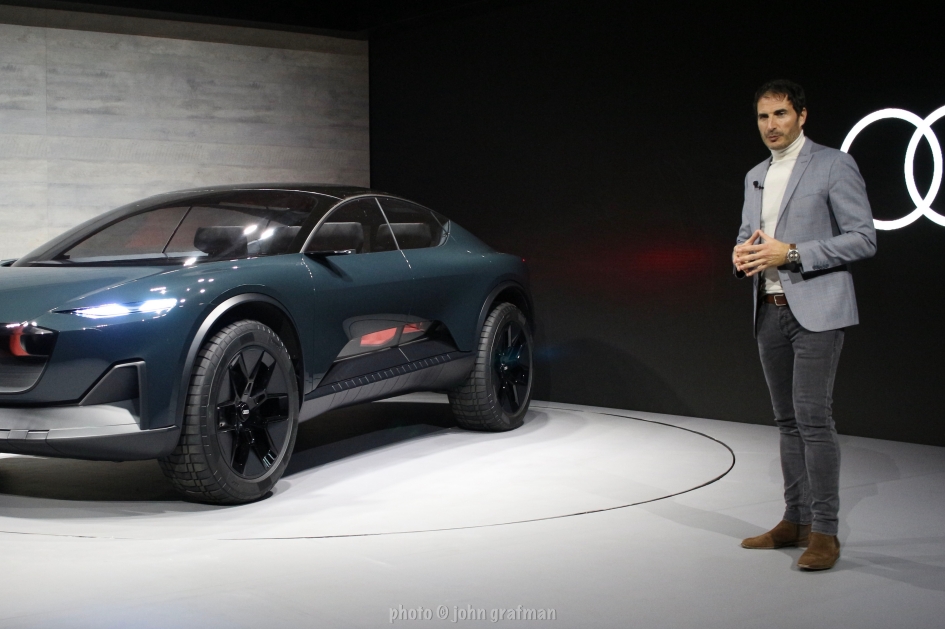 ADO: Was any particular part, such as the taillight, inspired by this, that or the other thing?
I don't know if I can pinpoint details, but we do influence a lot. We do competitions on production programs, and we always give more North American point of view perspectives on those programs. And typically, it's always a bit shocking for them. It's like, oh really, you wouldn't do those proportion? Or, you want the car to appear bigger? I'd say, yeah, I think it is important for the market. I think we kind of we steer projects to a direction that we are more comfortable with from our North American perspective. But yeah, there are a few details. When we developed a grill for concept car, then we start to see it in the proposal of the design back in Germany.
And we also influence in terms of new products themselves. Sometimes we work together with the product management department of AOA, Filip Brabec (senior VP of Product Management), and we say, ok, let's have a holistic vision of the portfolio. What would be the best portfolio for North America in six year or seven years? We start to brainstorm and get ideas that we show to Germany, and it happened that one of those has been selected to be a product. So, we have a lot of influence for such a small team.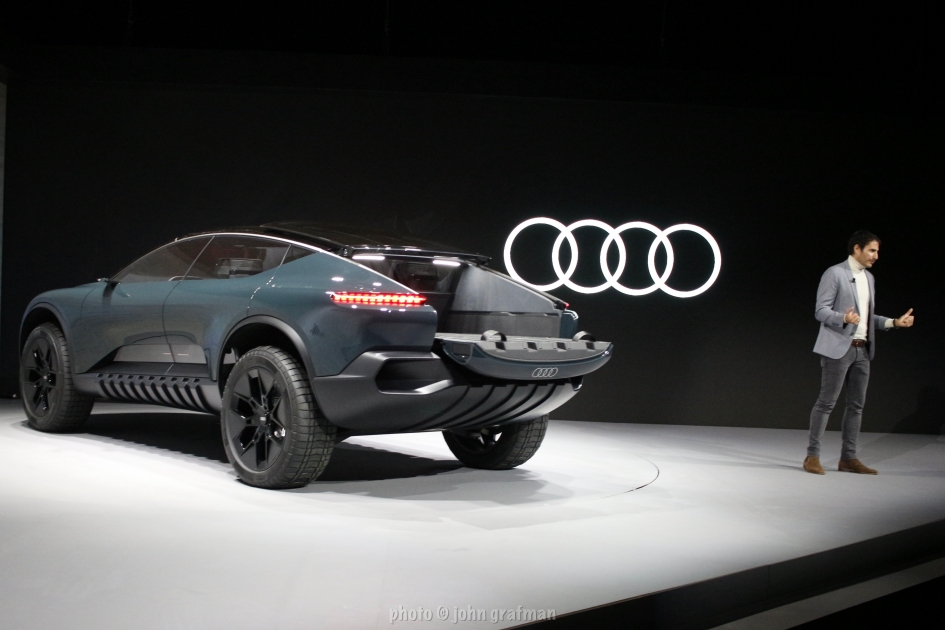 ADO: On the concept we see here today, what do you think in the near term can translate to an actual production vehicle?
I think this one more than any other one we've done in the past because, it's close to a car that one would imagine would be on the road. The grandsphere had the same effect. I mean, it's really influencing the next big sedan, electric sedan. I think you're going to see a lot of that car into our next C segment portfolio.
Find out more on the Audi activesphere concept
The Audi activesphere presentation and video on AutoDesignO
Related Images: