A proper, functional design always comes back to the package – the elements that each form of transportation needs to envelop. The question is the same for trains, planes, commuter automobiles, and racecars. Over time, the package evolves. People are getting larger, and the numbers are increasing in many families, thereby they need more space.
Article and images © John Grafman
Another significant consideration is the powertrain. Engineering for an internal combustion engine, hybrid, or pure electric all have unique factors to consider. This ultimately impacts design and space utilization. Motorsports are having to realign with the changes that are unfolding rather quickly in the consumer market.
Fortunately, one successful racecar driver is providing his thoughts on this topic. "I think everything that's happening in racing is great to see because we're definitely following what society needs," says Simon Pagenaud. "Formula E is a sport that's being followed everywhere in the world. It's a great racing series. We have Extreme E, as well. That's also fun to watch. We don't have electric in the 24-hour races yet. I'm sure that will happen at some point. I'm not a magician. I don't know what's going to happen in the future. I can't read in a crystal ball."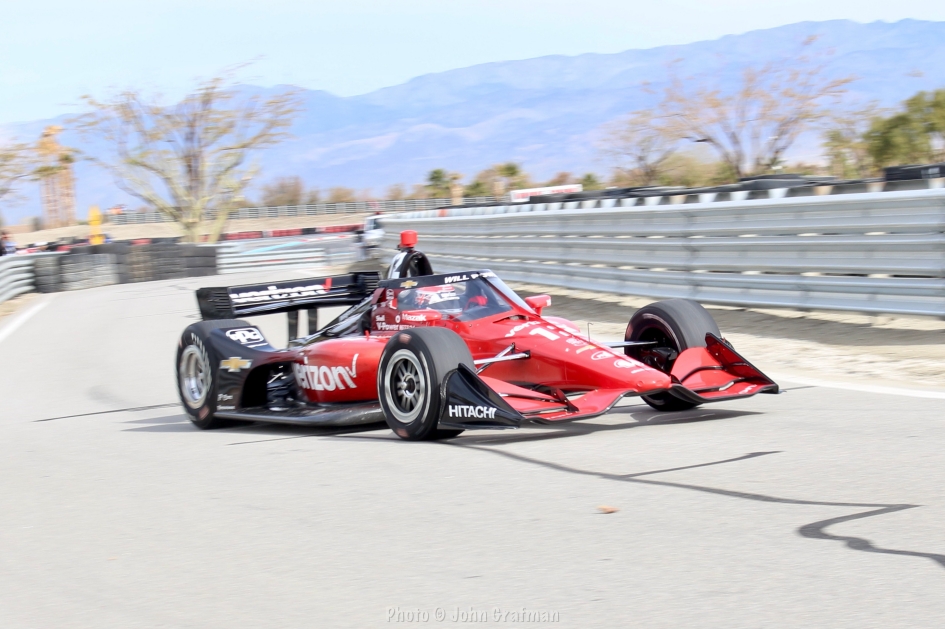 Simon is correct, these series are well-worth watching. Nevertheless, one has to ask, shouldn't racing be taking the lead instead of just reflecting what's going on in the consumer market? Even in the current street cars are able to drive hundreds of miles on a charge and go from 0 to 60 in under 3-seconds! Prototypes, such as the Mercedes VISION EQXX, are now conquering 12-hours or more on a charge. How long before we see the Indy-E? Ultimately, will the technology change the design of racing, and will racing continue to influence the styling of production cars that we see on the road? Just like Simon, our crystal ball seems to be a bit hazy right now.
Certainly, electrification isn't exactly an immediate concern however this shouldn't be dismissed. At the moment, there are more pertinent inquires and fish to fry.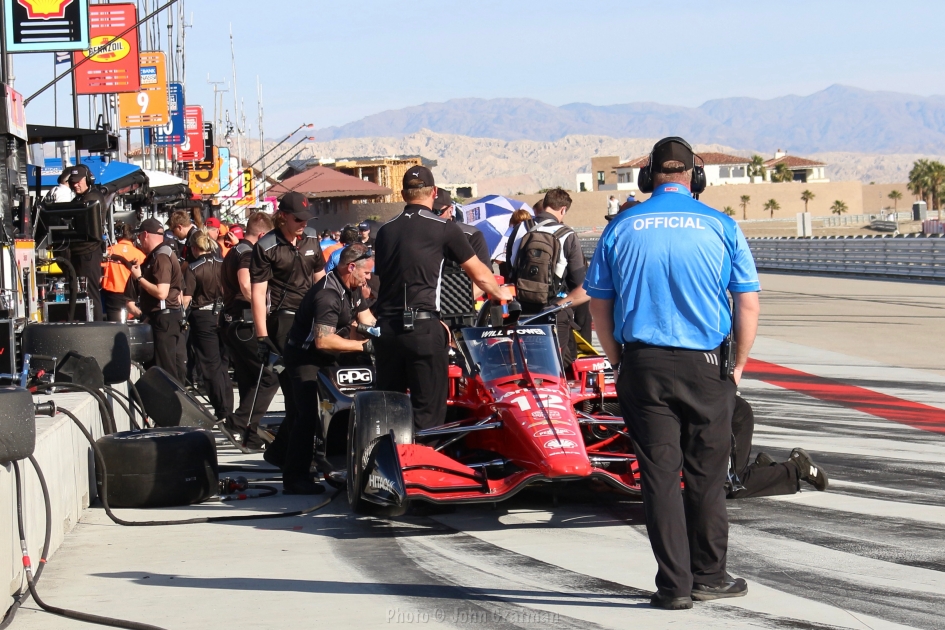 The question that has plagued mankind since the dawn of time is, why are we here? Curiously, at this IndyCar press conference, the media is asking the same question. While we'd like to understand what role we play in the cosmic scheme of things and our place in the universe, that's a little broad. During the Q&A, a bevy of racecar drivers are being drilled on the same point. Only, the deeper and relevant inquiry is, why is IndyCar here – for the first time – at The Thermal Club?
A Private Racetrack. A Country Club. It's Both!
Sure, us journalists are here to bear witness to pre-season testing at this temperate weather in the Coachella Valley. Really, nobody is complaining. In fact, it's hard to bark at the expansive and welcoming environment of this members-only, private racetrack and country club. Truly, if you were to dream of your own race sanctuary, it might look very similar to this.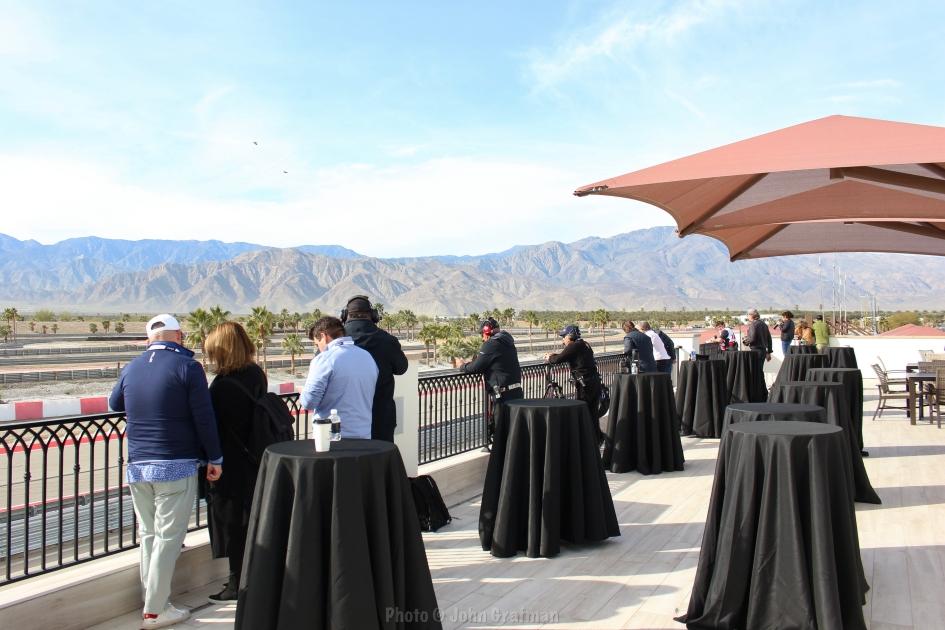 "I love the concept," says Simon Pagenaud. "Actually, before my IndyCar career, I was on a project like that (The Thermal Club) myself in France. I was going to build something similar. I had the backing, I had everything going on, but my career took off. I had to give up on the project. Certainly, when it's time to stop driving, it will be something that I'm interested in. That's maybe 20 years from now." Of course, Simon and the tight-knit group on-hand have a little laugh at that comment.
Perhaps, some might say, why wouldn't we want to be here. Sure, it's got almost anything you could want. Well, there are a few issues to consider. One, this exclusive track isn't on the scheduled race circuit, at least not yet. More on that later. Another is, to be a member will require more dollars than the typical media wag earns… in a lifetime.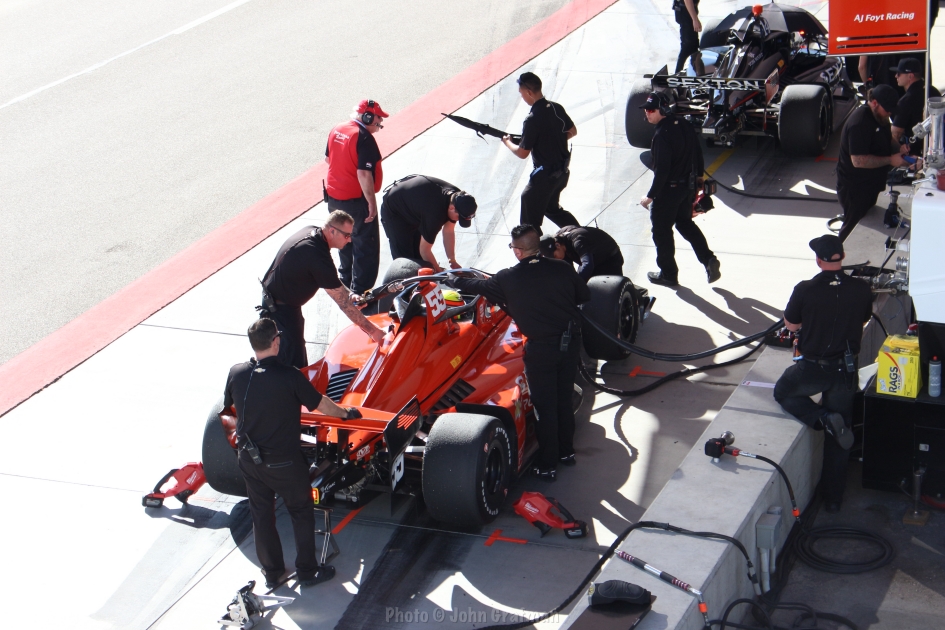 Also, it has an eerie feel here, sort of like a ghost town, but with ear piercing howls from IndyCars. Aside from a few members that are soaking in the two days of testing, there are no bleachers full of fans, no concessions or vendors hawking shirts or anything remotely similar. It's like the circus came to town, but nobody showed up.
The Circus Came To Town
On the other hand, the vast expanse of land at The Thermal Club is covered in a swath of IndyCar support transports that brings attention to just how massive this undertaking really is. At a normal race, the IndyCar team trailers, support crew, Firestone tire trailers, tents, press, and more just blend in with the tens of thousands of enthusiasts and the other side shows. It camouflages the extent of this operation. During our two days in the desert, it's painfully evident that this requires an army of people to set up and run.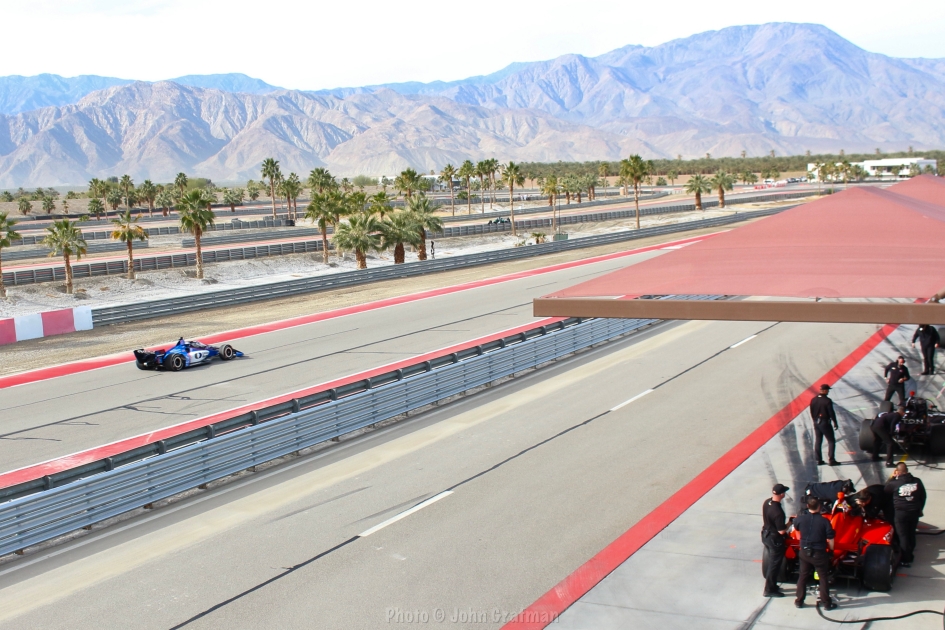 Sure, the cost of all this doesn't amount to anything close to our country's national debt, yet this could make a sizeable dent in even Elon's wallet.
Back to our unanswered question, what's the purpose of this? Really, IndyCar could test elsewhere on a track that is used for racing and thereby the drivers could tweak their machines to courses that matter, as opposed to a private course that doesn't. Or maybe it does.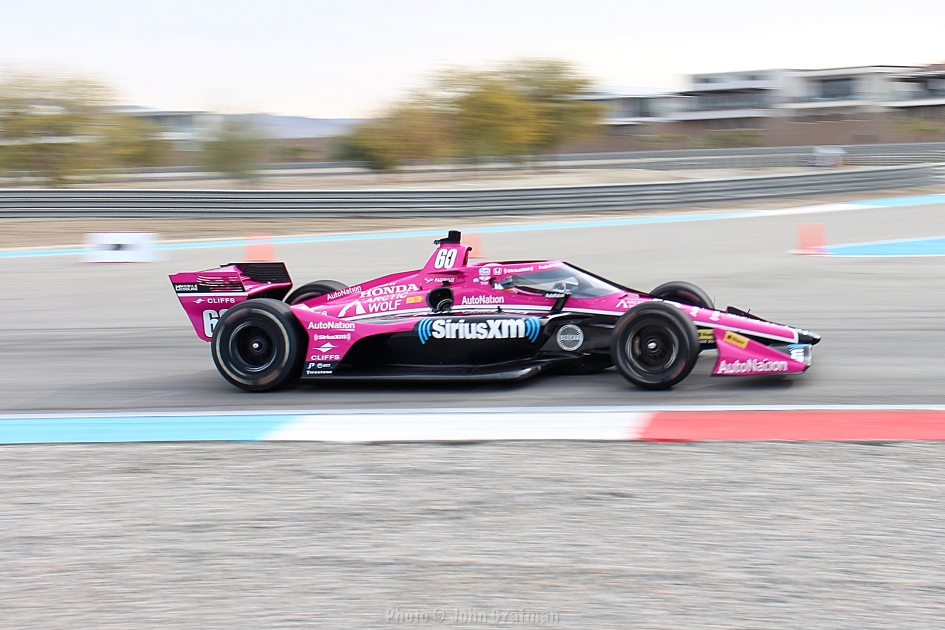 "I mean, honestly, I don't know the reason why we're going here, but I'm happy we do. I think personally it's always exciting to come to new tracks," says Felix Rosenqvist. "It's an amazing facility. We're staying at the Villas inside the track area. I've never been here before. I was really blown away by how neat and tidy everything looks. I don't know if there's ambitions to race here in the future. That could be an option. I'm just pumped to be in California in January. There are worse places to be," states the smiling racer.
Perhaps one could equate this to the upcoming annual Acura Long Beach Grand Prix in April. This is to one extent, or another set up similar to that course. And Long Beach actually meanders through the coastal downtown streets of that city.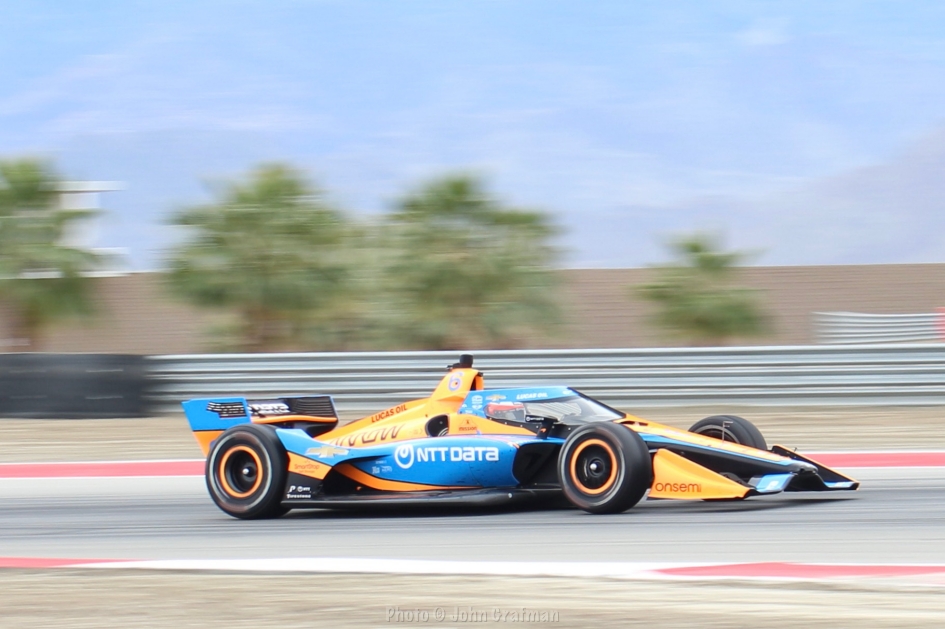 Josef Newgarden has a few thoughts on this. "You probably shouldn't come out of here (Thermal) either too excited or too demoralized depending on how it goes because it is not incredibly relevant when it comes to at-track performance," Josef tells the press in Palm Springs. "We're never going to run here again. Well, I shouldn't say that. We're not going to run here this year for a points-scoring race. From that standpoint, it's not relevant."
Don't Be Too Excited Or Too Demoralized
When asked why is IndyCar at The Thermal Club, Will Power responds, "Yeah, I think it's… yeah, I don't know. I actually haven't asked IndyCar why we're doing it here, but it's a nice location. I think it's a pretty nice track."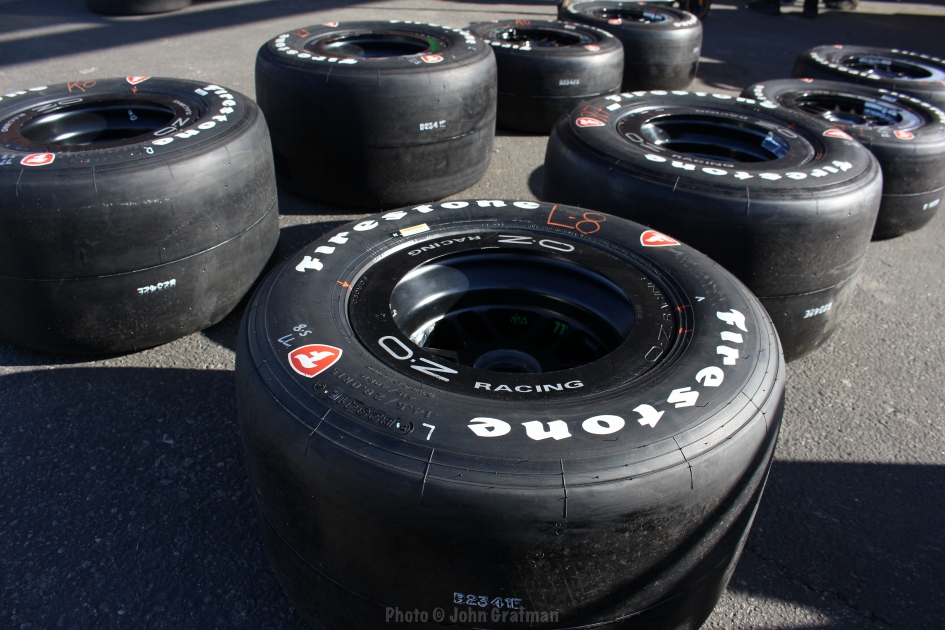 "As far as what you'll get out of it is – going through the motions of a race weekend basically," continues Power. "It's not really — we won't know until we drive on it what it really applies to, which track would be the most similar. I'm thinking Indy road course, sort of Portland. You could probably get some stuff from it there."
Others in the dedicated race media are asking each other this fundamental question. Boatloads of money spent, and for what? Sure, The Thermal Club and the surrounding areas, like La Quinta, are picturesque and accommodating. However, this is a good 125 miles from the heart of Los Angeles. If this became a track for an actual IndyCar race, would anyone come? Or could a purpose-built, year-round track be built for this?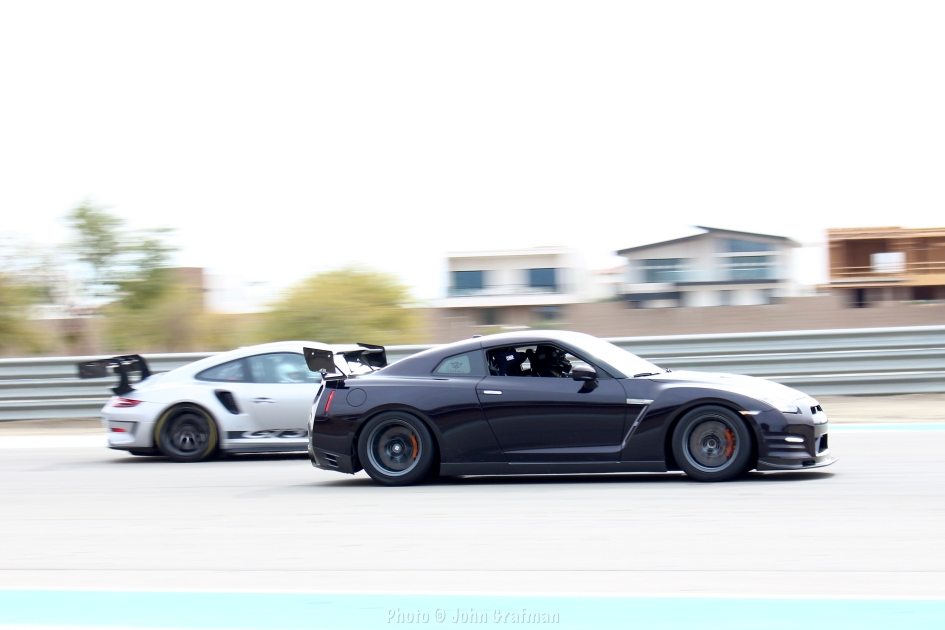 Chris Esslinger, Communications Director with the Acura Grand Prix of Long Beach has a few thoughts on this, "It's nice to nice that they're here and doing their preseason testing. We like it sort of being in our backyard certainly helps us at the Acura Grand Prix of Long Beach, which is the second best attended event on the schedule." Chris continues, "So happy to have IndyCar here in Southern California, or in California in general. We'd have more opportunity to see them, to see them pre-season, and see how the season is going to be shaping up for 2023 – it looks like it's gonna be an exciting one."
Fly And Drive
Certainly, the supporting businesses in the community have got to love it. Given the flights overhead, it's questionable if the local Jacqueline Cochran Regional Airport could be any busier. And businesses like Garage Row Racing and TruSpeed Autosport are soaking in the experience, as do their clients. This only further cements the vision of these trailblazers in having motorsports become a viable opportunity and turn Thermal into an actual destination, not just agricultural fields.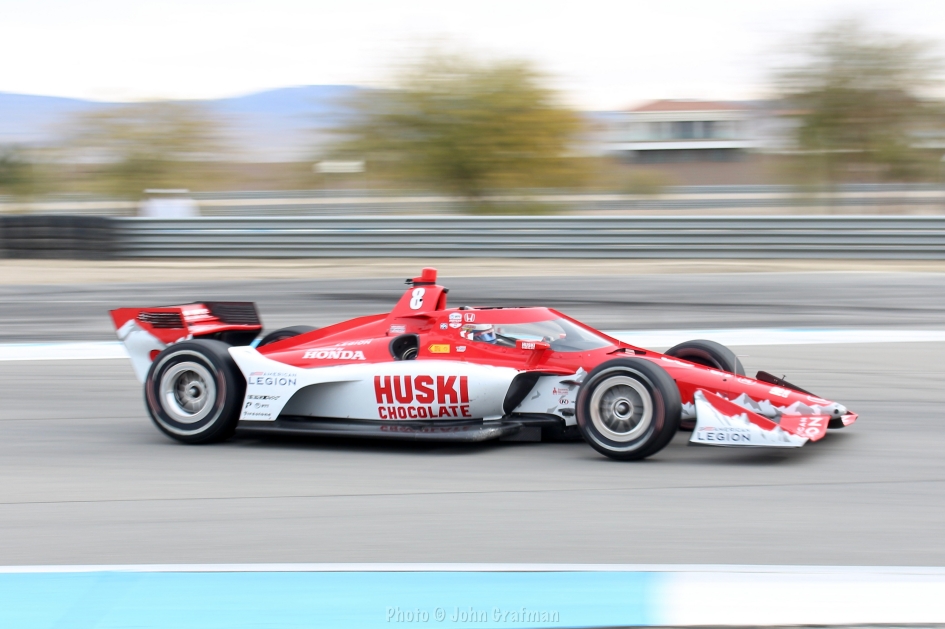 To those media professionals that follow the IndyCar circuit, it seems some believe it's highly unlikely that the public would show up in large numbers. However, to their surprise, the new Acrisure Arena recently opened in Palm Desert just off the freeway, and that supports the Firebirds ice hockey team. Yes, ice hockey! So, if that can fly, why not auto racing in Thermal? To our understanding, there is more land for another track, should there be a desire to make it so. Mulling the thoughts around in our heads spark a few conversations that churn out a number of wild ideas.
Maybe the most curious was, does IndyCar need real live fans to exist? Hear me out. Yes, the roar of the crowds being drowned out by machines is as important as the laughter of a live audience in taping a sitcom. Then again, one can do very well with a mix of a live audience and laugh-tracks. Hello… Seinfeld!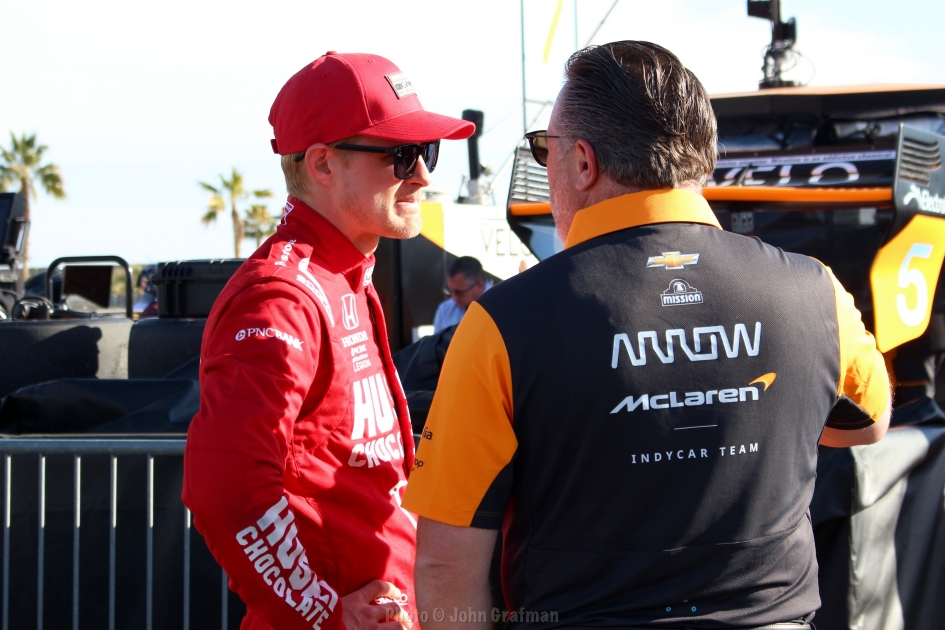 Is it possible that this is not testing for the cars, but the potential testing for broadcast of some sort or another? IndyCar is already diving in with the reality show 100 Days to Indy. No doubt, the more charismatic of the drivers will not just find a home on your tv or computer screens on race days in the near future. The gregarious nature of Helio Castroneves, Tony Kanaan, Josef Newgarden, Simon Pagenaud, and others can mesmerize the flock for hours and hours. Hell, if the Kardashians can do it, why not those that can dash around in cars?
Life in the bear flag state already is one big reality show. Does a reality show on IndyCar seem to be in-step with Southern California? Chris Esslinger's point of view is, "I think it does [make sense]. Certainly, it's in-step with some other racing series, which shall remain unnamed. I think it's a really good opportunity for the series to market the personalities of these drivers, which is something that at times it's struggled with."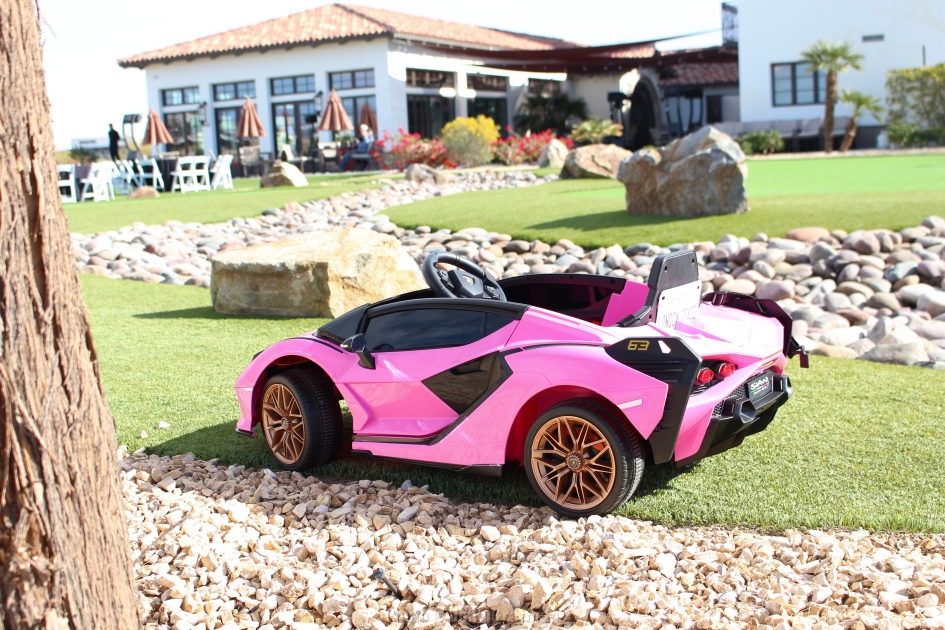 Reading the tea leaves, it's dollars that make these wheels go round. Nobody else has provided any other significant over-riding factor that could make sense. Sure, the track is a wonderful place for the drivers to kick off the rust from the off-season and hone their skills back on IndyCars. But that could be anywhere, right?
In speaking to an insider at The Thermal Club, during the testing he suggested this was an opportunity to see how the club meshes with the race organization. Anything is possible.
Love Is In The Air, And
Anything's Possible
I'd say this was sort of like a first date. Is love in the air and a relationship will blossom from this encounter or will both part ways as friends. While I'm not much of a betting man, but I'd be willing to put my money on a spring wedding!
Epilogue: Exactly two weeks after the days in the desert, IndyCar released this statement that hints at what might be around the next corner. "IndyCar will reach more fans in more global markets with more accessibility than ever before. A robust list of international broadcasters will bring the stars of the NTT IndyCar Series to 223 markets in 142 countries with major and impactful media partnerships. In addition, IndyCar Live, IndyCar's direct-to-consumer streaming service, will provide practice, qualifying and races in territories not covered by an international partner."
UPDATE: Marcus Ericsson, after producing the fastest lap time at The Thermal Club during testing, comes in first place in St. Petersburg one month later. As the saying goes, practice makes perfect!
https://www.indycar.com
https://www.gplb.com
https://www.thermal.cc
https://www.garagerowracing.com
https://www.truspeedautosport.com
NTT INDYCAR SERIES February 3, 2023
The Thermal Club Open Test – The Thermal Club
Combined Results of Practice
Track – 3.067 mile(s)
Total Laps for Combined Sessions: 2560
Rank Car Driver Name C/E/T Session Time Speed Total Laps
1 8 Ericsson, Marcus D/H/F Practice 3 01:38.4223 112.182 79
2 45 Lundgaard, Christian D/H/F Practice 3 01:38.5682 112.016 103
3 27 Kirkwood, Kyle D/H/F Practice 3 01:38.7885 111.766 66
4 77 Ilott, Callum D/C/F Practice 4 01:38.8404 111.707 89
5 11 Armstrong, Marcus (R) D/H/F Practice 4 01:38.8409 111.707 101
6 12 Power, Will D/C/F Practice 3 01:38.8702 111.674 97
7 10 Palou, Alex D/H/F Practice 4 01:38.8718 111.672 98
8 3 McLaughlin, Scott D/C/F Practice 3 01:38.9052 111.634 111
9 6 Rosenqvist, Felix D/C/F Practice 3 01:38.9410 111.594 85
10 9 Dixon, Scott D/H/F Practice 3 01:38.9762 111.554 101
11 60 Pagenaud, Simon D/H/F Practice 4 01:38.9769 111.553 93
12 2 Newgarden, Josef D/C/F Practice 3 01:39.0301 111.493 98
13 7 Rossi, Alexander D/C/F Practice 3 01:39.0913 111.425 83
14 28 Grosjean, Romain D/H/F Practice 3 01:39.0944 111.421 92
15 26 Herta, Colton D/H/F Practice 4 01:39.1047 111.409 87
16 5 O'Ward, Pato D/C/F Practice 3 01:39.1486 111.360 80
17 18 Malukas, David D/H/F Practice 4 01:39.3668 111.116 122
18 06 Castroneves, Helio D/H/F Practice 3 01:39.3803 111.100 99
19 29 DeFrancesco, Devlin D/H/F Practice 3 01:39.5308 110.932 99
20 30 Harvey, Jack D/H/F Practice 3 01:39.6960 110.749 97
21 78 Canapino, Agustin (R) D/C/F Practice 4 01:39.7039 110.740 97
22 15 Rahal, Graham D/H/F Practice 4 01:39.7432 110.696 95
23 21 VeeKay, Rinus D/C/F Practice 3 01:39.8912 110.532 110
24 51 Robb, Sting Ray (R) D/H/F Practice 4 01:39.8983 110.524 122
25 14 Ferrucci, Santino D/C/F Practice 3 01:39.9366 110.482 70
26 20 Daly, Conor D/C/F Practice 3 01:40.1192 110.281 94
27 55 Pedersen, Benjamin (R) D/C/F Practice 4 01:40.1297 110.269 92
(R) Rookie (C)hassis: D=Dallara | (E)ngine: C=Chevy, H=Honda | (T)ire: F=Firestone
– Information provided by Indy Racing Information System – Copyright INDYCAR 2023
Related Images: