Now, if you want a suggestion on a good scotch, a bowling shirt, or a delicious sushi bar in Malibu, maybe asking Charlie Harper (of CBS' Two and a Half Men) wouldn't be a bad idea. On the other hand, would the fictional, hedonistic womanizer be competent in recommending a new car? And even more to the point, are the Charlie Harpers of the world the new target market for Audi?
Article by John Grafman. Images provided by Audi
The Audi Design Loft in Malibu, California is the only design studio that the brand, Audi, has in North America. The task of that studio is to envision the future of mobility and the future of the brand. And sure, Malibu is well-known for Surfrider Beach, Pepperdine University, the Hughes Research Labs, and Nobu. But why Malibu?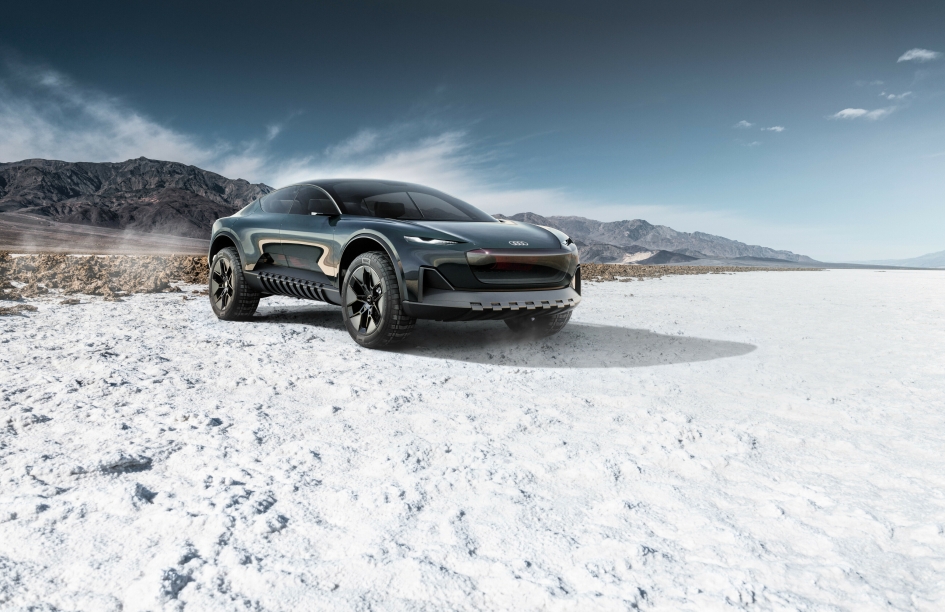 As Gael Buzyn states, "It's because we wanted to get inspired, permeated by the Southern California lifestyle, by the car culture, by the mountain, by the roads, by the beach. So, it was a perfect place for us to be." Honestly, it's hard to argue with that.
The Audi "Sphere" concept cars do encompass distinct forms of automotive transportation. The grandsphere and urbansphere designs originated from Germany. The activesphere was born from the same neighborhood as the fabled Malibu Colony, where the fictitious Charlie and his brother, Alan, reside alongside the Pacific Ocean.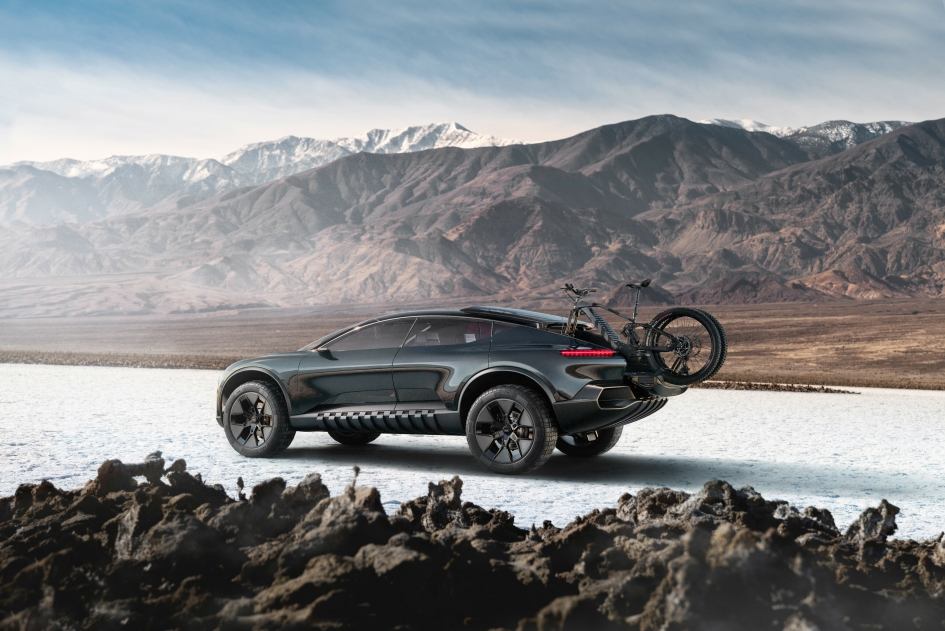 The Audi activesphere is a new type of crossover that combines the sleek, beautiful lines of a sportback coupe with the practicality of the SUV along with true off-road capabilities. The design team is offering a new type of experience, something completely unique that brings passion for outdoor activities to a new level. After all, there's no rule that says all sport utility vehicles must has the look of a menacing dump truck.
The designers in the Audi Design Loft envisioned activesphere buyers would be into extreme skiing, surfing, E-foiling, mountain biking, and they specifically developed a concept that's tailored to bringing along the gear and can reach new frontiers. Even more importantly, the activesphere will travel with a trim, graceful appearance, and without an overtly brutish style. Buzyn states, "We like to say it's an extension of your active lifestyle."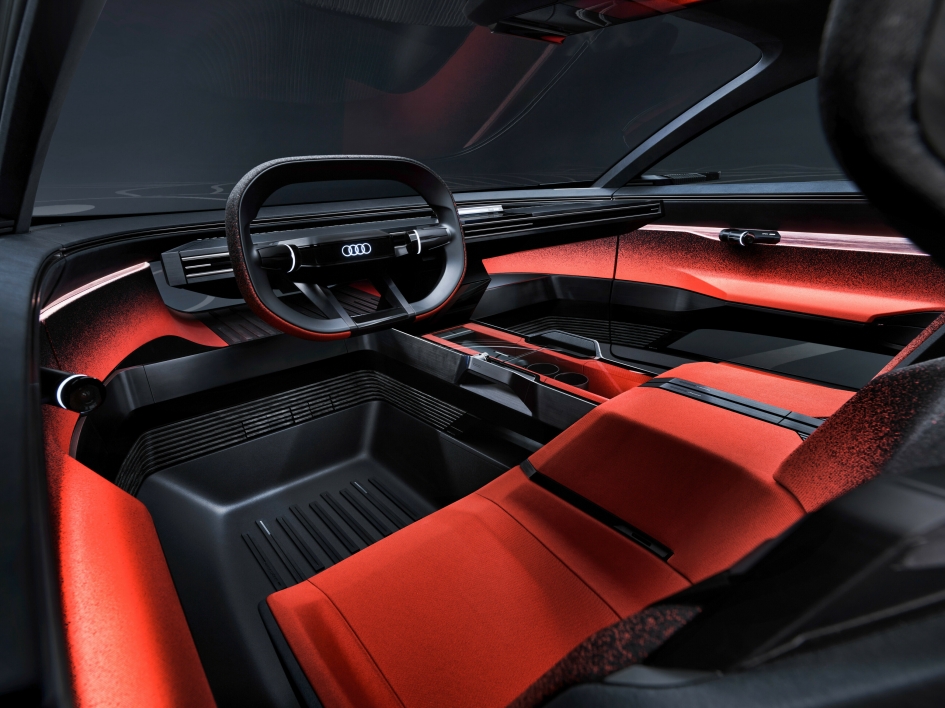 The Design Loft really takes it all in as research. Being in Malibu, the team witnessed something interesting, there is a new type of luxury that's taking shape. The style is a bit more casual, more oriented and focused on nature, on the outdoors, on outdoors activities. And we've noticed that the people that follow that lifestyle, they were shifting toward off road vehicles, sometimes an extremely rugged off-road vehicle.
The design team ask itself at the beginning of the inception of the project, does off road vehicle have to look rugged. The answer was, they didn't think so. As Buzyn says, "In fact, we loved the idea of creating some surprises. You know, creating a vehicle that looks striking and doesn't give away immediately all its potential. We think that this combination of style and practicality is actually very much in-line with Audi's DNA. I mean, this is a little bit like the new version of what the all-road would be in the future."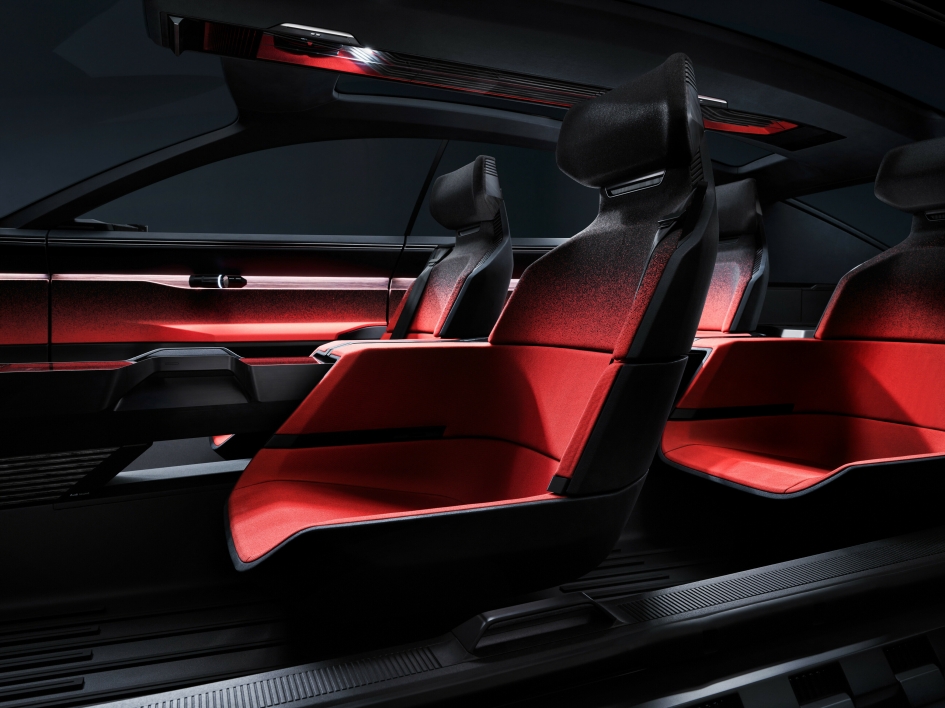 Gael Buzyn schools us on the fine points in design, "Let's talk about the design and the proportion, especially. We really wanted to have a car that is extremely beautiful, sleek, streamline, but on the top of big wheels. And quite frankly, this is a dream of every designer. I mean, you know that typically – it's almost a joke, all of you know designers create cars that you are almost impossible to create in reality because you've got these amazing proportions. Well, this time I have to say I'm pretty proud that we ended up having a car that has these amazing proportions. And it works well because we were trying to create a car that is all about contrast. You can see this especially in the exterior, where you find two distinct layers that really illustrate the cars dual personality. The lower layer is all bold and rugged and really embodies the car altering capability. You see it with the cladding, those huge wheels. Again, those are 22 [inches]. The rugged lower body. And then you have the upper body, which is all about elegance, about style, about sophistication. It's really upscale. You can see those classic, architectural lines, very simple and timeless, but also linked by muscular, very fluid, surfacing. We wanted that contrast."
"Now let's speak about the interior," continues Buzyn. "The interior is obviously like a comfortable lounge. With all its glass and you can see there is really a lot of [it], like on the bottom of the doors, the whole ceiling is glass, even the front kind of reinterpreted the single frame – it's glass as well. With all this glass, it's a perfect place to immerse yourself in beautiful surroundings. We like to say it's the best place to reconnect with nature. And in order to elevate and protect that experience, we decided to go beyond physical screens. There are no displays in the activesphere, and I know it sounds like a challenge in the age of digitalization. But for us it was a great challenge, you know, a great opportunity to implement a visionary user interface.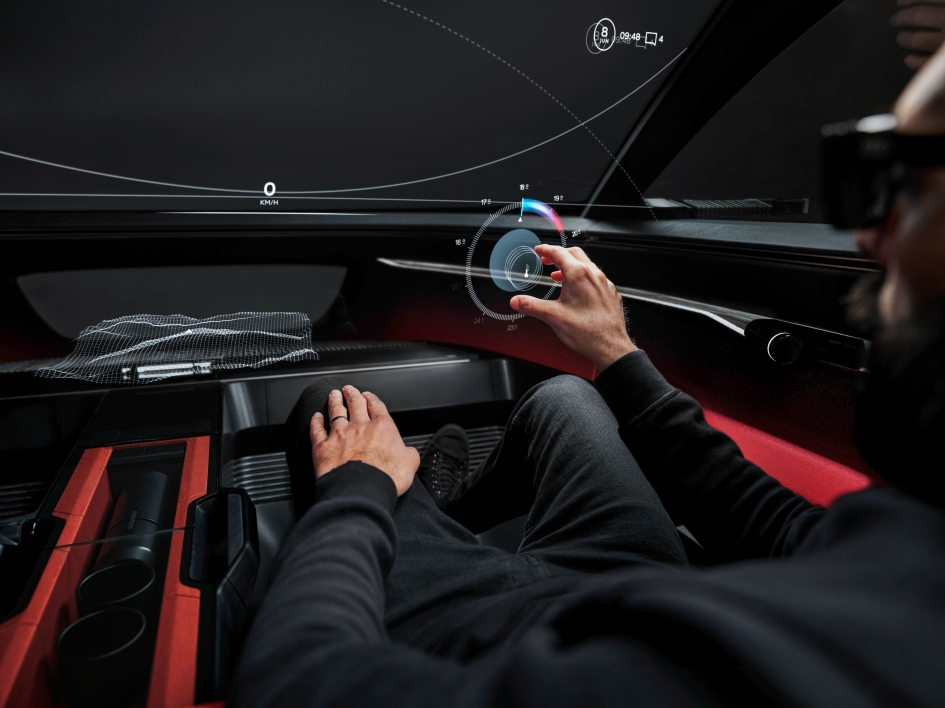 The mastermind behind the realization of that interface, his name is Sid Odedra. He's the head of UX Design Department in Germany. He could not be with us today, but we have a video, and he will run you through this interface."
Odedra begins, "The user interface in the vehicle today is there to support your journey. As we look to the future, user interface will enrich your experience even further. The next step, however, what we're at looking in the activesphere is to add new layers of information, new dimensions that can be seen before and that will empower you to do the things you couldn't do before. Augmented Reality is about having information around you without being bound to physical screens. It's about having the right information, in the right place, at the right time. And that's key to activesphere because it's about being immersed in nature and not overloaded with information. The core idea about the user interface in activesphere is about enriching your journey, especially while driving. Allowing you to both experience the drive or drive the experience, we've leveraged next generation technologies to offer multidimensional experiences. And not only by overlaying information around you, but by allowing this information to interact with the world around you, moves us from augmented to mixed reality. And that's why we're calling this visionary user interface Audi Dimensions. The activesphere is a companion for outdoor activities, so we've also thought about what help you need to get the most of your activities to push for better performance. Audi Dimensions can also add extra layers of information when you're out doing the things you love. That enhances the real world even beyond the car."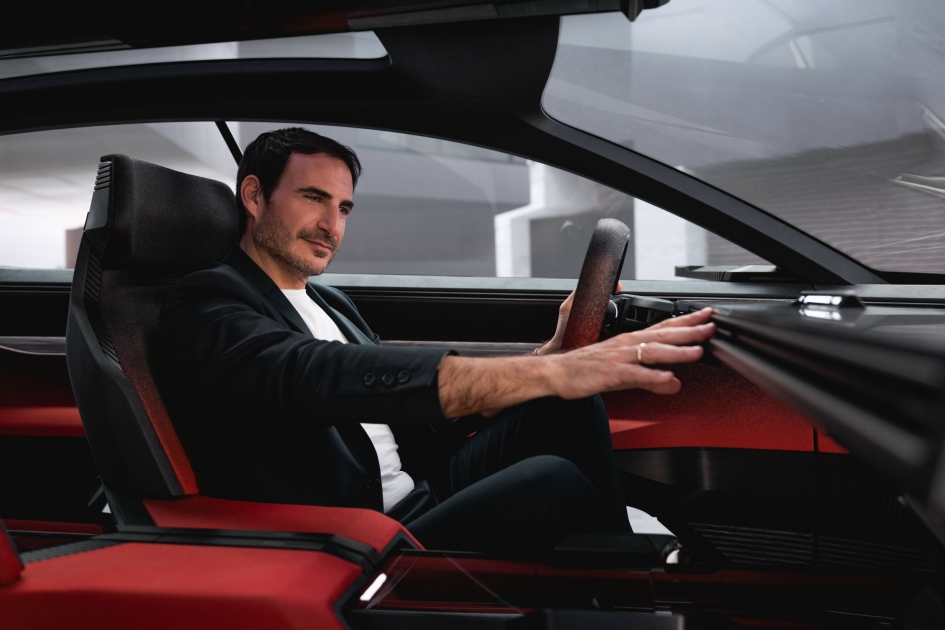 Buzyn steps back in and adds, "So here is Audi Dimensions. I really encourage you to try it out. We actually have Jan with us today and we'd be able to demonstrate how this works. Okay, so the activesphere in automated mode is obviously like a luxury lounge. But let's say it's a beautiful morning and there is a wonderful road in front of you, like there's so many around LA. Well, we wanted to make sure this car can be driven, and you can enjoy that drive. You can switch the car into the drive mode through the gear selector and it will reconfigure the interior completely into a driver's cockpit. I can show you how this work. Just switch drive here. Here we go. The dashboards deploys from the floor. And this is time the steering wheel unfolded. And here it is, and now it's ready to be enjoyed as a driver. As you close the door, you can also switch the car into the off-road mode. In that mode, it will offer you the next level of quattro experience. The car literally transforms, the body lifts on its suspension to offer more ground clearance, and the lower body gets more rugged to offer more protection. It really is ready to reach more extreme places."
In our little demo, the transformation resembles and sounds a bit like Robocop meets Ironman. No doubt, the activesphere could try out for the role of the next big screen superhero, or at least play a supporting role.
"We also reinvented the way you can transport your sports equipment with a number of practical features that are completely new in such a body style," says Buzyn. "For example, we have a ski rack that deploys from underneath. The roof actually moves down when you want to put your ski on. We wanted to create a surprise by having the whole rear transforming into an open loading area. And we wanted to make sure when this open loading area is set up that the cabin is sealed from the exterior. We have this bulkhead that kind of closes the interior from the outside. This area is large enough to load 2 ebikes and to charge them, but also to transport a bigger sports item, if you need."
Gael Buzyn concludes, "Here it is the Audi activesphere concept. It's a way to celebrate the reconnection to the great outdoors, the passion for extreme sports, the quest for adventure. It's a way to celebrate the escape."
Now, as with any concept, a vast amount of this is not ready for prime time just yet. Yet, the overall goodness could make its way in part or in whole to the marketplace in the coming years. The technology could even find a place in our lives outside of transportation. And, without too much struggle, one could envision the activesphere's sleek body influencing the next generation of Audi products. That sleek sportback does have a family resemblance to another classic shape. Can anyone say A7?
Highlights
Audi's PPE modular system
No local emissions
A range of over 600 km
Extremely fast charging times with 800-volt technology
Dimensions –
4.98 meters long
2.07 meters wide
1.60 meters high
Wheelbase – 2.97 meters.
22-inch wheels – 285/55 tires
The Audi activesphere's ground clearance is also variable by 40 millimeters from the basic height of 208 millimeters.
The Audi activesphere approach angle is 18.9 degrees. Departure angle is 28.1 degrees.
The Audi activesphere concept can use Audi's most innovative electric drive system: the Premium Platform Electric (PPE) – developed under Audi's leadership together with Porsche AG. The PPE is designed exclusively for battery-electric drive systems, like the Audi activesphere concept. It holds around 100 kWh of energy and uses 800-volt charging technology. All-wheel drive Audi activesphere concept together deliver a total output of 325 kW and a system torque of 720 Newton meters.
The AutoDesignO one-on-one interview with Gael Buzyn.
Related Images: