Modernism Week is far more than a stroll down memory lane in appreciation of the architecture that arose during that period. There was connectivity between homes, furnishings, fashion, and of course cars. Each discipline impacted the other. This can be seen in other overall shapes, as well as in the details. Two of the prominent events at Modernism Week in Palm Springs have the car as the centerpiece. On Saturday, the Casual Concours is roughly 150 wonderful cars on the Desert Princess Country Club green. The vast majority are from the 60s and 70s. The wide assortment of models along with the unchanged desert landscape as a backdrop offer a glimpse in transportation in a bygone time.
Interview, article, and images by John Grafman
The Cul-De-Sac Experience on Sunday meshes cars of the 60s with the homes, inside and out, from that decade. This is a transcendent shuttle into what feels like a time capsule.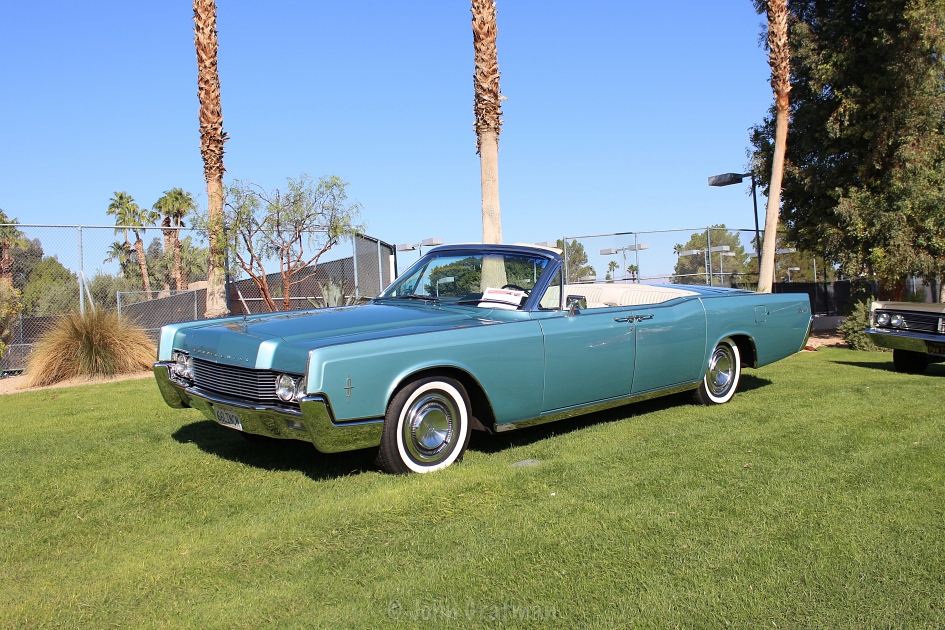 Fortunately, we are able to wrangle away John Burge, Great Autos of Yesteryear (Casual Concours), Director of the Board / Past president, and Jeff Stork, Co-Creator of the Cul-De-Sac Experience long enough to get their thoughts on these two events.
_________________________________________

John Burge – Director of the Board / Past president, Great Autos of Yesteryear (Casual Concours)
AutoDesignO: During Modernism Week, we have the Casual Concours, which showcases several decades that are representative of design and influences of style during that era. Can you tell us a little bit about the cars?
John Burge: We have cars starting at early 1900s, up through 2005. We have a preservation class that starts at 1900 up through '84. Those are cars that are all original in every respect. Nothing has been done to them to modify them. Paint's original, interior's original, carpet's original, and in one case we have a 1960 DeSoto with original hoses and belts on it. The only thing that's not original are the tires on the ground.
The only thing that's not original are the tires on the ground
We find a love, and we all look at the cars and realize, these are rolling pieces of sculpture, beauty you can't get otherwise. And, it's amazing how we come together as a family and discuss details about the car, and why the '59 Chevy has this, versus the '60.
Members of our group have included Blaine Jenkins, who was an automotive designer for GM for years. He developed all the colors. Evening Orchid was his claim to fame, a 1965 color. Silver with an eyedropper of purple, in his words. A beautiful car that was very different for the time. It wasn't your typical gray, white, black, it was purple, evening orchid.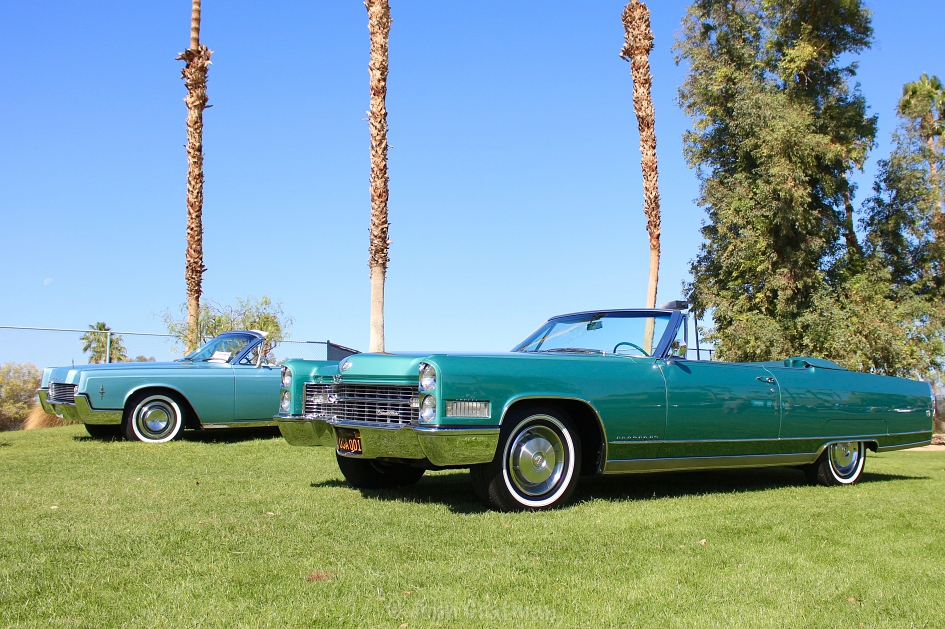 All of the people here love and appreciate the designs. While you may not be an owner of a foreign car, or a classic from the '20s or '30s, you can appreciate the grace, the elegance, the design, the style, the influence, the technology it took. And, you can appreciate what each one did. Whether it's a torsion bar suspension in the front or it's a main leaf spring. Everybody can appreciate what the car has to offer and the newness to it all.
ADO: In visiting Modernism Week, there's a lot of home tours. And you can see a direct influence between automotive and architecture, particularly at the Casual Concours when you see some of the wings and the roof lines of some of the cars…
There's a lot of continuity in style and flair
John Burge: Well so many of the cars in our club that are part of Modernism is the flying buttress wings and the bat. The smooth, slick top patio roofs with a wrap-around windows that offer the beautiful skyline presence, these are the things in common. And we find that many of the cars that were designed, these architects of the cars also designed homes, furniture, dishes, so there's a lot of continuity in style and flair.
Avanti for one. It was started and designed in Palm Springs. But the gentleman [Raymond Loewy] who did that went on to design furniture, dishes, china, demitasses (as well as the graphics for Air Force One), so there's a lot of influence. And you'll see that most of the homes here, surprisingly, have something in the garage, there's probably a classic car.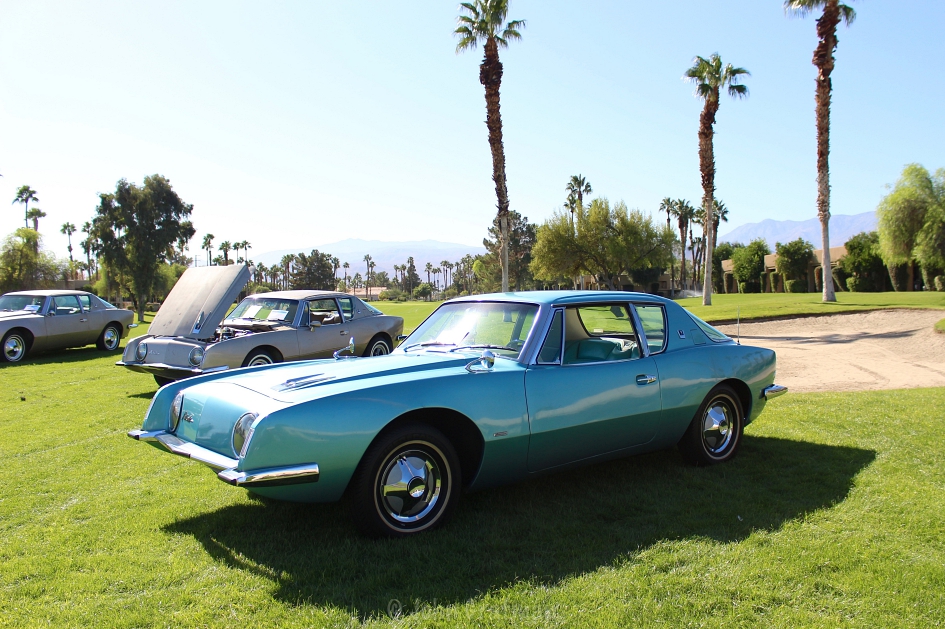 ADO: You've been involved with the Casual Concours for a long while. How many years?
John Burge: Casual Concours started 11 years ago. I've been three years in charge.
ADO: And you have your personal favorites. What do you like?
John Burge: Oh, oh. It's hard to pick a personal favorite because each one is so unique in its design, style, drivability and attitude. You know, I can't pick just one. I mean, I play a game with my husband that if one is all I can ever have in my life what would it be? And it's a 1966 four-door Lincoln convertible.
There's connectivity as to how people gravitate to one car or another
ADO: The cars we have here today, really, I can see everything from Datsun to the '70s to classic American iron from the '50s. Where do you see things going? Do you see things changing over time?
John Burge: We are finding that there's a huge following now for what is called Malaise era, which is the '80s and '90s. So the younger generation of car enthusiasts now are gravitating to those, because those were the cars they grew up with as children.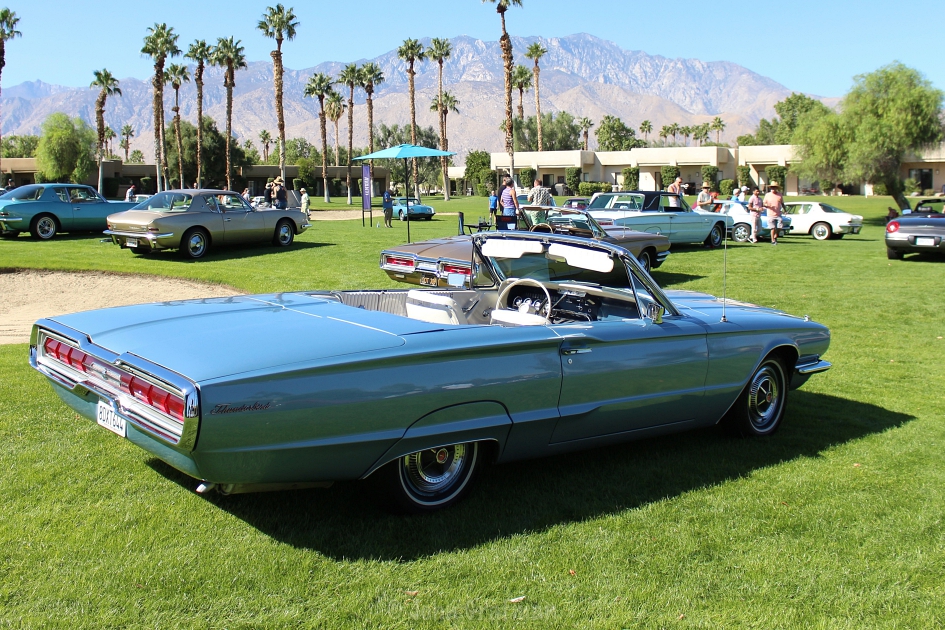 Just like most of the people here collect a '50s car because grandpa had that, or this was grandma's car. And so, there's the connectivity as to how people sometimes gravitate to one car or another. I drove this as a kid, or daddy had it. So I see the cars going more to a sleek line and look, and we welcome those. We welcome everything, there is no cutoff for us.
_________________________________________
Jeff Stork – Co-Creator, the Cul-de-Sac Experience at Modernism Week
Jeff Stork: This is our second year of being an official modernism event. So, what we wanted to do is, we want to just select two feature cars that would tie into not only modernists and to be the correct moment in time, but also really connect to Palm Springs as a geographic location. Our choices were Avanti because it was designed within the city limits and Thunderbird because Thunderbird was sort of designed for Palm Springs. And of course, it derived its name from the Thunderbird Country Club because Ford Motor Company had a board member named Ernest Breech who was a charter member at Thunderbird, and he suggested the name for the car. Thunderbird Country Club actually approved the name on a board of directors' vote. So, we chose these two cars because we thought that they represented Palm Springs in automotive design.
ADO: And the Avanti is still a cherished automobile down here in the desert.
Once you get 15 Avantis together it's pretty impressive
Jeff Stork: Oh, very much. We actually appointed a captain for each class (at the Casual Concours), and the Avanti captain is well connected to the Avanti Club, and he spent a year networking and just talking to people and talking to club members and telling them about the event. And we have 15, and I've never seen 15 together. I'm not saying it's the largest by any means, but once you get 15 Avantis together for a non-Studebaker national meet, it's pretty impressive.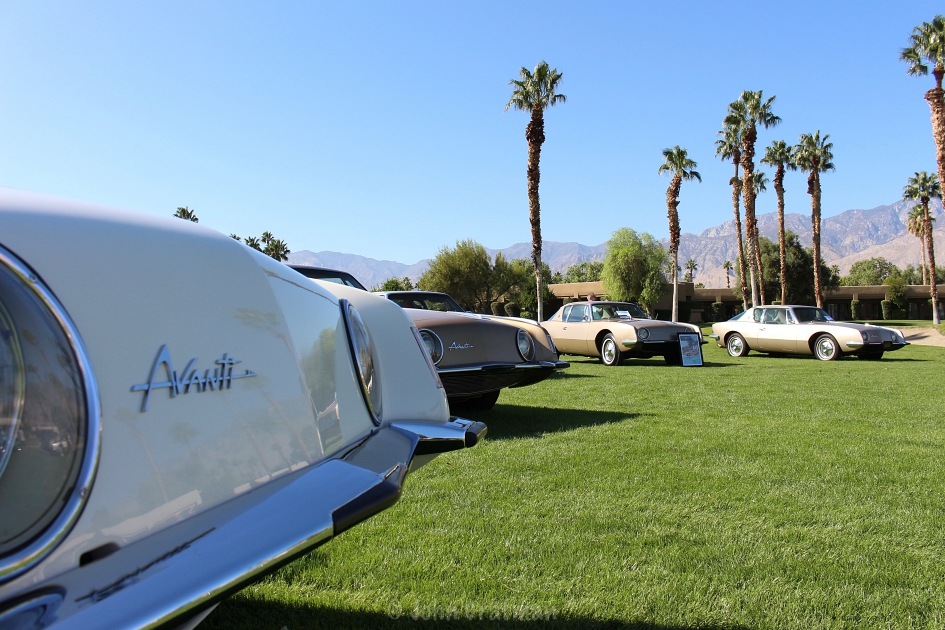 ADO: And besides this, you are the ring leader, you might say, for the cul-de-sac experience.
Jeff Stork: I'm a co-creator. Yeah. We created that in Tom Dolle's kitchen one day. His house was going to be on a neighborhood tour, and he asked me to bring a couple of the collection's cars to just do a little photo preview as a teaser. And we put a couple of cars in place and looked out through his kitchen at the scene and went, "Oh!" We saw that we had something. And that led to the first Cul-de-Sac.
I like to say that we took a neighborhood tour and we married it to a car show. And this year we're marrying that to a dance party because we're going to pay homage to the music television programs of the mid '60s. We're going into the go-go era, if you will, you know, the television programs and the Gazzarri dancers. We're going to be focusing our timeline on October of 1967, and we're going to basically stage an episode of "Shindig!" in the middle of the cul-de-sac complete with go-go platforms, with real go-go dancers in period costume. And they're going to be surrounded by convertibles and fastbacks because to me the fastback best represents that mid '60s automotive lifestyle.
Automobile manufacturers rush to portray themselves as youthful with the fastback styling
ADO: In the '60s, the attitudes were a lot looser (than in prior decades), and I think that was reflected in automotive design.
Jeff Stork: Oh, very much. It was about youth, that suddenly the baby boomers were coming of age. And even if they weren't old enough to buy cars, they were old enough to influence consumer products. And so, automobile manufacturers rush to portray themselves as youthful with the fastback styling, and the bucket seats, and the floor shifts, and the engines, and the bright colors. Even to the point where Oldsmobile started showing at auto shows, their turntables had banners over them that said "Olds is Young." Everyone strived to be young and hip and go after that younger consumer.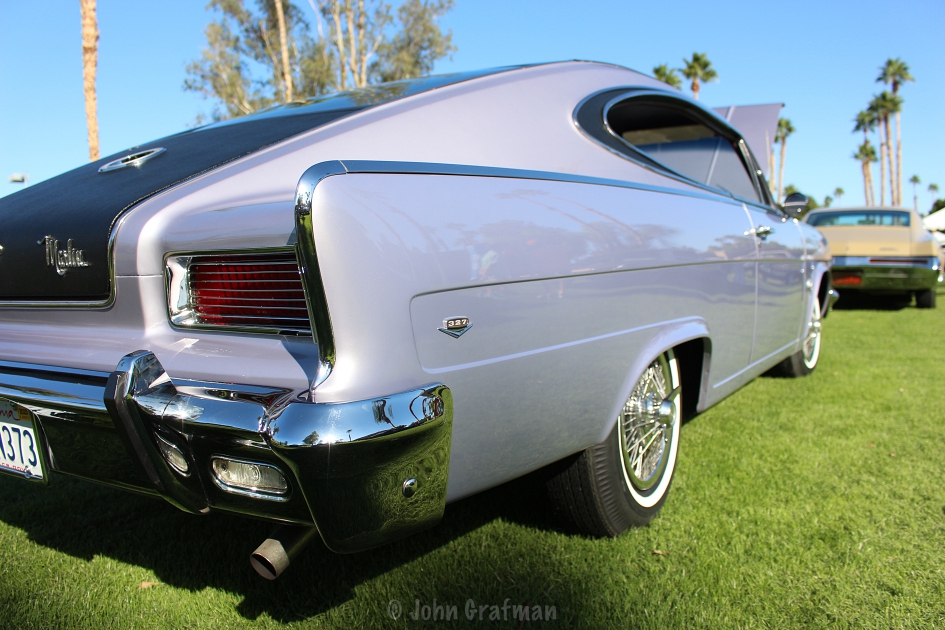 ADO: At the Cul-de-Sac Experience, what's the favorite car this year for you?
Jeff Stork: That's very hard. I'm going to cop out and say my favorite car is the fastback because I've curated five of them. But we have a first year screaming red Dodge Charger on a rotating platform that I think is a telling clue!
A glimpse of the Cul-De-Sac Experience 2018
Related Images: