Modernism Week is a celebration of time gone by. Mid century was a time of exploration and wonderment. Science and art hit new highs. During that era, Palm Springs was one of the epicenters of architectural masterpieces that have stood the test of time, and forms the basis for Modernism Week.
AutoDesignO delves into the history behind the influences that helped shaped mid century modern and the world.
Images by John Grafman
Article by Greg McAllister and John Grafman
_________________________________________________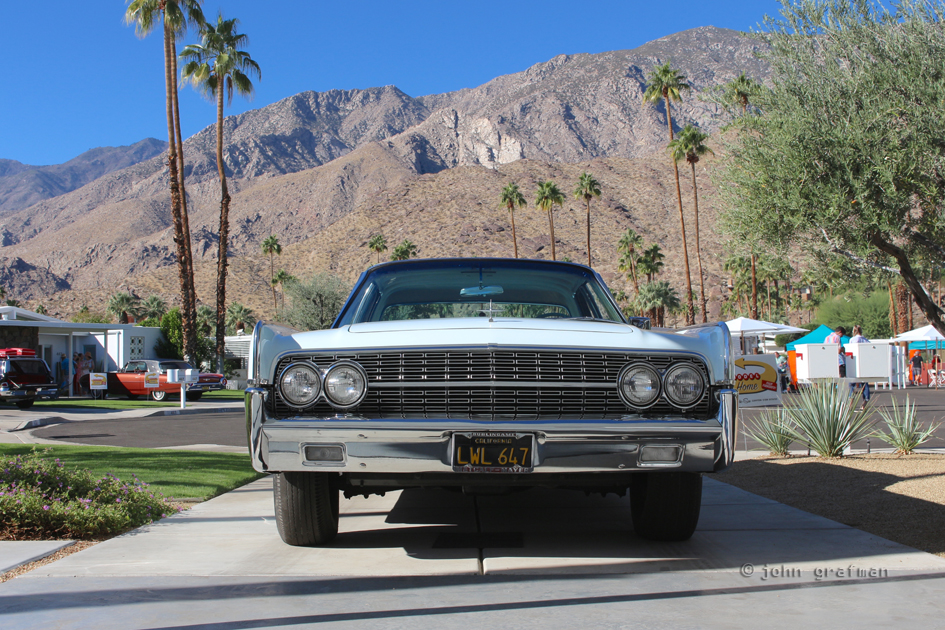 Palm Springs, up to the 1940s, was occupied mostly by agrarian farmers growing dates, grapefruits, along with oranges. One of the underlying reasons why Palm Springs became what we see today is due to the water in the Santa Rosa Mountains, which are adjoining the city. It's the water that made future development possible. Those same mountains are also some of the prettiest looking rock formations in Southern California. Los Angeles residents looking for a warm, winter playground found it in Palm Springs.
Back in the mid century, the developers that were building in this upcoming vacation mecca were willing to roll the dice and take risks. They dreamed out loud because they were not afraid to, and that is something to respect. David Thoreau said, "The mass of men lead lives of quiet desperation," but that clearly didn't apply to these men.
The first dominant architectural style that swept the desert area was Spanish colonial revival. A few notable examples are Carry Grant's vacation house, Liberace's "The Cloisters", and the landmark La Quinta Inn (not to be confused with LA Quinta Hotels) located in the city of La Quinta.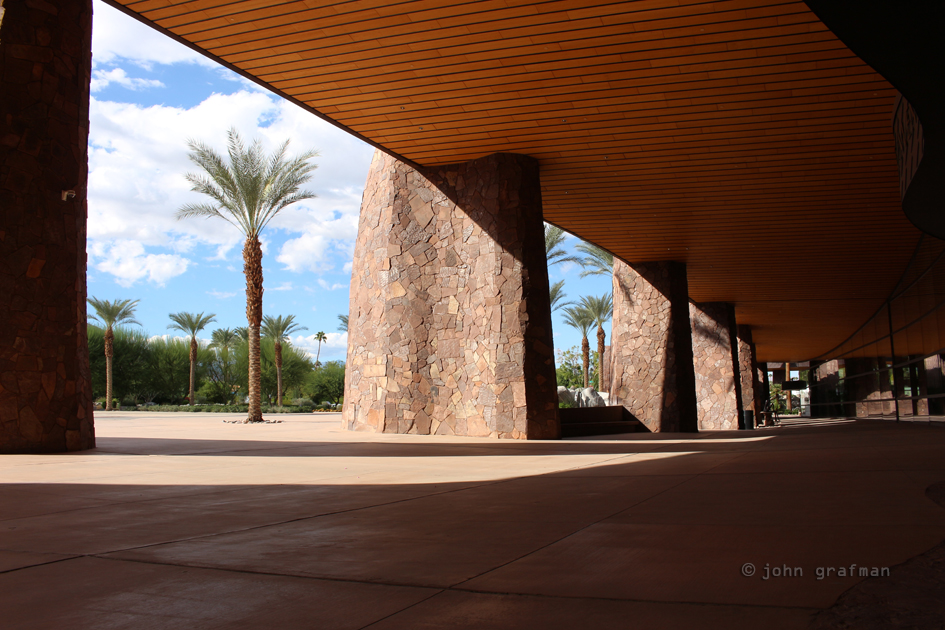 Before the desert became a widely known, getaway oasis, A. Ronald Button took notice of this. As an entertainment lawyer representing Rita Hayworth and many people in the burgeoning movie industry, Button's job was to get his clients out of trouble.
In the 1940s, Button bought 20 percent of the city of Rancho Mirage, totaling five sections of land (a section is one square mile). He developed some himself in the newly minted, mid century modern style. But, he mainly broke up his land and sold parts to his Hollywood friends, like Art Linkletter.
Back in the mid century, the developers that were building in this vacation mecca were willing to roll the dice and take risks
Button brought his friend Howard Ahmanson, owner of Home Savings, to view the area of Rancho Mirage. Ronald told Howard about his purchasing of Rancho Mirage. He suggested that the both of them buy up Palm Desert to build retail and vacation homes. At first Howard Ahmanson said no. Later, Ahmanson changed his tune, purchasing a vast amount of Palm Desert on his own (Button did get a referral fee). The purchase included the Silver Spurs Ranch five sections of land and more. Ahmanson was a retail developer, so as a direct result we now have El Paseo, and the shopping center on Highway 111.
At that point in time, the architectural style hitting the Coachella Valley was modernism, the inside-outside, glass houses. Names like Richard Neutra, Frey, Cody, Anderson, Wexler, and John Lautner became the foremost architects in the desert.
Side note: The Kaufman house on Vista Chino, built by Richard Neutra, is one of the most photographed modernism homes. Frank Lloyd Wright was building Fallingwater in Pennsylvania and the Johnson Wax building for Edgar Kaufman. However, Kaufman gave the Palm Springs commission to Richard Neutra because he thought Frank Lloyd Wright would be stretched too thin to also do his Palm Springs residence. Frank Lloyd Wright was definitely upset, as he wanted the Palm Springs commission. So, to nobody's surprise, there was a tiff between Neutra and Wright from that day forward.
Palm Springs has the largest collection of vintage mid century modern homes in the country
Many of these modernism developers of the Palm Springs area built vacation homes for the upper class and the mega wealthy who lived all over the U.S.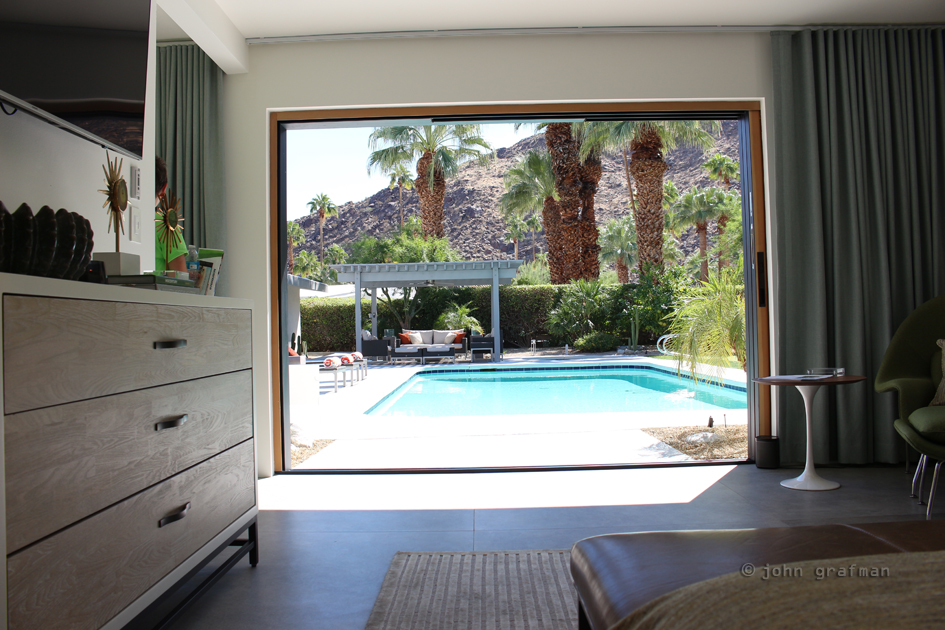 Twice in our history, American's had had a glut of money. This came after the two world wars. No one was spending money during the war years; Americans saved, and there was a pent-up demand for goods worldwide. In both the 20s and 50s, we had money to burn, and our cars, houses, and nearly everything else reflected that. Expensive modernism architecture, Danish furniture, flamboyant cars like the corvette with cartoon colors, like roman red and turquoise, were all in vogue. Even cocktail shakers took on the shape of space ships. Spend, spend, and spend some more. Some people who live in the area still live this way. Whether this is due to savings and investments through family lines from the 50s or new money, many Palm Springs residents are still very wealthy. Booking private jets (perhaps from a website like Jettly), arranging lavish vacations and living in large houses is nothing new to many Palm Springs house owners.
Dion, Richard Neutra's son, continues to develop today. Unfortunately, he cannot re-create what his father artfully designed. Builders are limited to a smaller amount of glass per square foot of building space (title 24) in today's mid century modern influenced houses. You simply cannot put as much glass in the new homes like Dion's father did. That makes the originals even more valuable and desirable.
Surprisingly, mid century modern vintage residences, like Richard Neutra's Kaufman house, were available for sale in the 90s for a bargain. The house was purchased for $500K and then brought back to original status for an additional million dollars. Recently, it sold for $14,000,000. Buying and restoring vintage homes can be profitable, especially when its designed by a significant architect. When you own one it's like owning an antique, and you're the only one that has an original. Additionally, many who visit these vacation homes, tend to take back with them the inspiration for building their own houses. It is quite fascinating how expensive, modern architecture is preferred by all around the world. If you are one of them who is planning to build the house of their dreams based on these inspirations, you might want to consult professional designers like NC Architecture (who are known to be architects based in Cheshire) beforehand.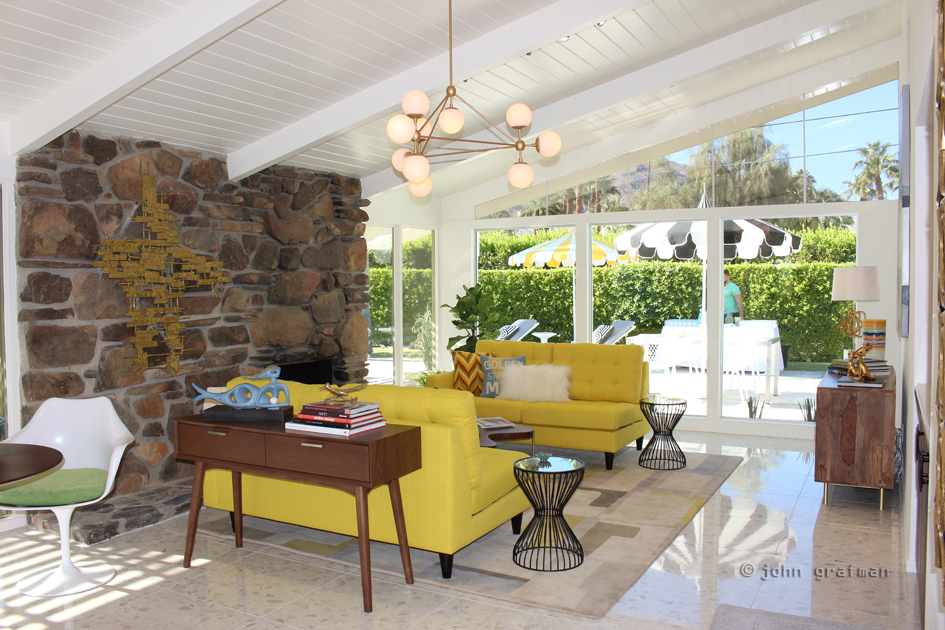 Surprisingly, mid century modern vintage residences, like Richard Neutra's Kaufman house, were available for sale in the 90s for a bargain
Anyways, talking about modernism wallpaper, it is a must in these homes. All vintage homes look best to put everything in it that is period correct to the era and style. Old houses simply look best with old bathrooms and kitchens etc. You loose a lot when you put something new in an old house. Mid Century Modern style wallpaper can be bought on dozens of wallpaper sites, and you can even check sites like Raise to see if there are any discounts to be had with any of the major retailers. If you know exactly what you want, companies like Spoon Flower can make wallpaper and fabric from any photo provided to it – old modernism patterns affordably reproduced.
Francis Crocker was one of the visionaries of the period. Crocker stopped at almost nothing to build the Palm Springs Tram and transform his dream into reality. This put the city firmly on the map, while bringing the visitor just a little closer to heaven. The thrilling tram opened in 1963. But, it wasn't too long afterwards that the golden age of mid century modern came to a close. Fortunately, the styling influences of the time continue to live on into the future.

About the contributor – Greg McAllister, grandson of A. Ronald Button, is the owner of All American Wallpapering, which installs vintage mid century modern wallpaper in many notable vintage homes in Palm Springs, as well as commercial and residential buildings in Southern California. When not addressing the needs of vintage homes, Greg is often behind the wheel of his Bloomington Gold winning, 1960 Chevy Corvette.
Modernism Week 2019 on Valentines Weekend
More Modernism Week on AutoDesignO
Related Images: