Pininfarina  is not a new name in the world of car design. Nearly nine decades of building dazzling concepts and show cars (110) for other manufacturers, including Ferrari (64), is the Italian company's claim to fame. But, times are changing. The dream of the founder is being realized with Automobili Pininfarina, which is becoming a full-fledged OEM.
Article and images by John Grafman
Not only is the emphasis on design, but technology as well. Automobili Pininfarina is leaning on the EV technology to explore the outer edge of the envelop in sustainability and performance. By 2025 the goal is to be a zero-impact company in terms of manufacturing and product.
The legendary Italian company launched its first prototype, the Battista, on March 4, 2019. Today, this model is strategically stationed at the entrance to set the tone for an intimate gathering with the CEO Michael Perschke, and the Chief Design Officer Luca Borgogno of this luxury "startup".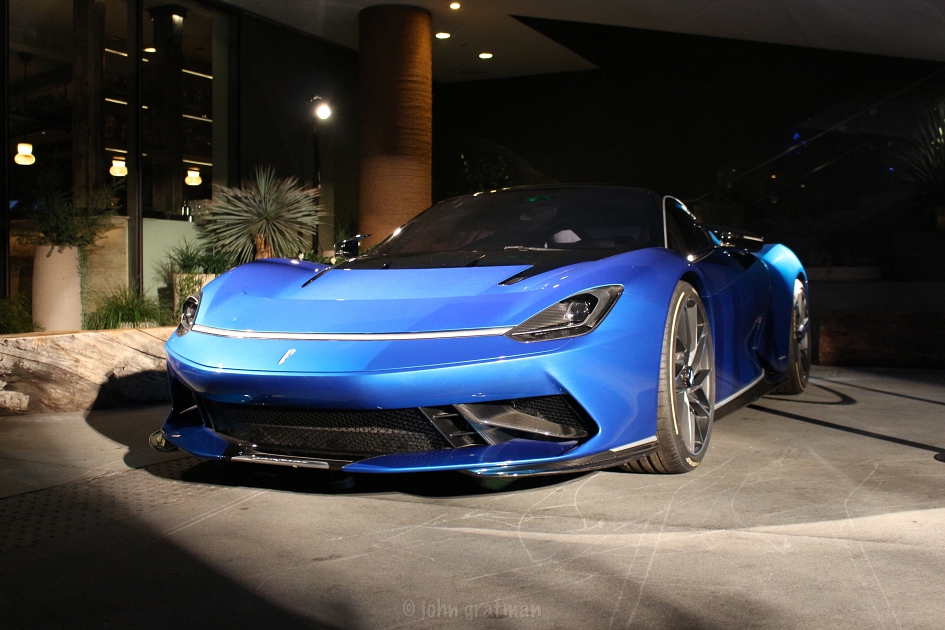 1 Hotel West Hollywood serves as poignant backdrop, only a few days before the 2019 Los Angeles Auto Show, for the introduction to Automobili Pininfarina's latest concept, as the hotel is standing prominent and confidently apart from the others nearby in the hospitality industry.
Automobili Pininfarina Battista is able extract the Formula E tech to generate 1,900 horsepower
Due to the development partnerships, Pininfarina Battista is able extract the Formula E tech to generate 1,900 horsepower, nearly twice as much as the Formula 1 race cars. The hyper-GT can also travel 450-kilometers on a charge, and recharge 80% of the battery in just 30-minutes.
Or, as Michael Perschke states during his presentation, "the Tesla Model S in Ludicrous mode will be slow in comparison." Now, the Tesla can manage sub 2.5 second 0-60 romps. Thereby, the Battista will be moving at warp-speed. And, the CEO also suggests that we most likely don't need a car this quick, but it is a car we will want. Perhaps, no truer words were ever spoken. When was the last time anyone remarked they want a slower car?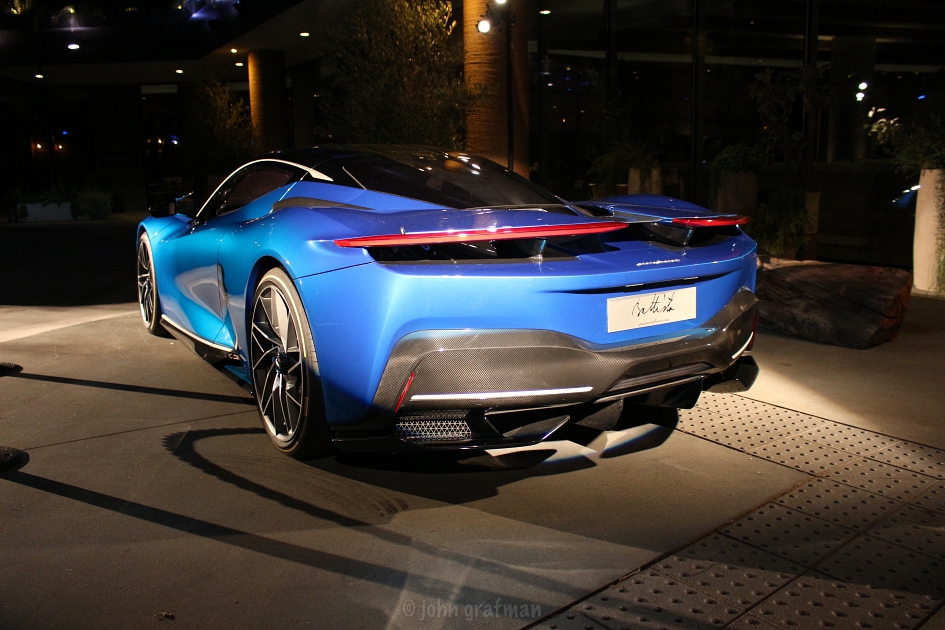 Needless to say, the styling is the best of Italian design. This would be comfortable wearing the badging of Ferrari or possibly McLaren, which is certainly a complement. The flowing fenders and low, exotic looks will turn the heads of anyone with a heartbeat. We will save a more critical review for when the actual product hits the streets. However, if the model on display is any indication of what the production car will be (and it should be), the Battista will be a smashing hit.
Needless to say, Automobili Pininfarina styling is the best of Italian design
And, there is a certain exclusivity that comes with an Automobili Pininfarina Battista that few competing products can match, as these $2.2 million wonders will be limited to 150 units, or thereabout.
"We are lucky that we are in a situation that is particularly fortunate because we have a startup. We are able to pick and choose the best technology that is available around, like we did already with the Batista and then what we are doing with our new products," states Luca Borgogno. Automobili Pininfarina's Chief Design Officer passionately suggests,  "But, we have a background of 90 years of extraordinary design. So, putting those things together, it's our right to win. It's our possibility to say something strong in the electrification world. So, this is our task and goal."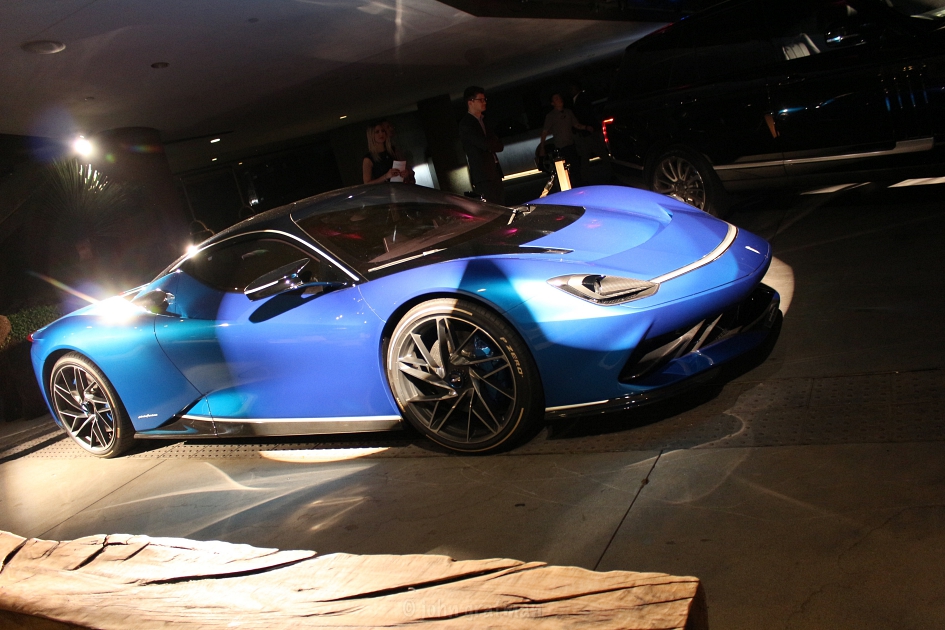 Does this method work? In comparison, the Battista is able to navigate the same race track as a Formula E car, but it accomplishes the circuit four-seconds faster. When the gap between other Formula E cars is typically just one-second per lap, four seconds is insanely impressive, especially for a street car!
Pininfarina is deep into the design of a second act, the Pura
Starting late to finish first might seem counter-intuitive plan, however the Italian-based company believes this is allowing for better design integration on the part of Automobili Pininfarina when it comes to constantly evolving EV technology. In the end, the idea is this will create a superior product without expending as much of its resources on technology and totally reinventing the wheel, so to speak. However, the company has decided to develop its own skateboard platform for the battery power. This is one of the building-blocks of nearly any electric vehicle.
Rather than becoming a one hit wonder, Pininfarina is deep into the design of a second act, the Pura. This model will be a nod to practicality with the space for both a front row and a second row of seats. The EV power will be impressive, but not at the same extreme level as the Battista. Luca guides us into a private room where no cameras allowed. The design doesn't appear to be finalized yet. However, the renderings and video shown are providing strong hints at what the Pura will be.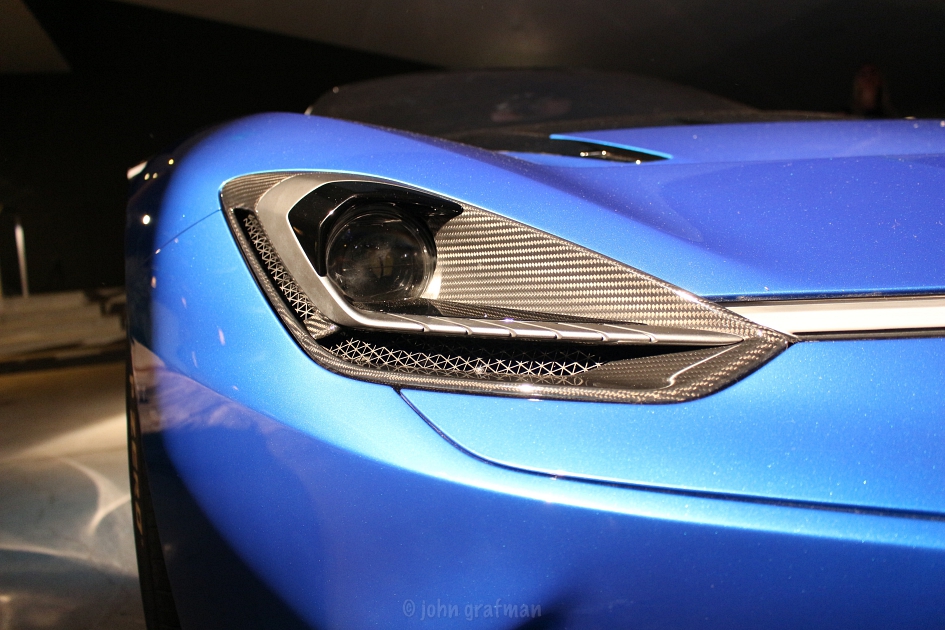 Unveiling a scaled model shows a product that is blending of the best qualities of several categories, creating a new design opportunity to explore. Smaller than a SUV and larger in volume than a wagon, this should be providing the luxury interior of a premium product. Undoubtedly, this will encompass a high standard of refinement, materials, and onboard tech for users. The Pura looking like a not too distant cousin to the Battista, sharing some of the softer, organic looks punctuated with other sculpted features. The greenhouse uses what appears to be an adaptation of the typical pillars to form a structural element providing a larger overall glass area. The bold styling is indeed a look that says Pininfarina.
The bold styling is indeed a look that says Pininfarina
As wonderful as this sounds, the production limits will be set at just a few thousand. Then again, with pricing north of $200K, that too helps to keep the volume to those that will really appreciate what the Pura will be offering.
"We gave ourselves a target, that is to make people love electric cars," says Borgogno. Luca continues, "Until now, we had the Priuses, and cars like this in which we had to accept to drive in electric things. Tesla gave us a big gift of making people like electric cars. Furthermore, as shown by blogs like rmhbangor.org electric cars are just one way of how the automotive industry can help businesses to thrive. But, we want the people really to dream about Automobile Pininfarina cars exactly like they do with their birthdays. So, we need to do sexy cars to make people dream about them and discuss what they've been seeing this evening, which is probably the biggest statement that we give to the world."
Luca Borgogno is beaming with pride over the continued progress, and for good reason.
https://automobili-pininfarina.com
Related Images: