Photos by John Grafman
LOS ANGELES, CA (August 17, 2016) – Jimmy Kimmel's beloved band leader and Hot Rod aficionado CLETO ESCOBEDO III joins the gear-head line up with side car racer KEVIN STARR (Jay Leno's Big Dog Garage) and guitar monster ROBERT SARZO to judge the "Car Show" at the 1st Annual Pistons & Pin-ups Car Show N' Concert in benefit of the Rock Against MS Foundation, 501c3 – Helping People NOW!
An extravaganza of hot rods, custom cars, and motorcycles will roll in to compete in the "BEST OF" car show – But it does not stop there! Rockabilly's infamous Mistress of Ceremony, The REVEREND MARTINI, will host the stage with a lineup of some of Rock and Rockabilly's elite all night.
This stellar concert line-up starts with Maureen & The Mercury 5, The Satin Dollz, The Phantom Pomps (Chris Story/Blazing Haley, Fuse/Hard Six and Pussy Fontaine) and ending with Guns N' Roses alumni GILBY CLARKE to take you down to the paradise city. Featured performance by Rockabella Hoop Artist Lillian Starr will dazzle you with her brilliant flaming hoops.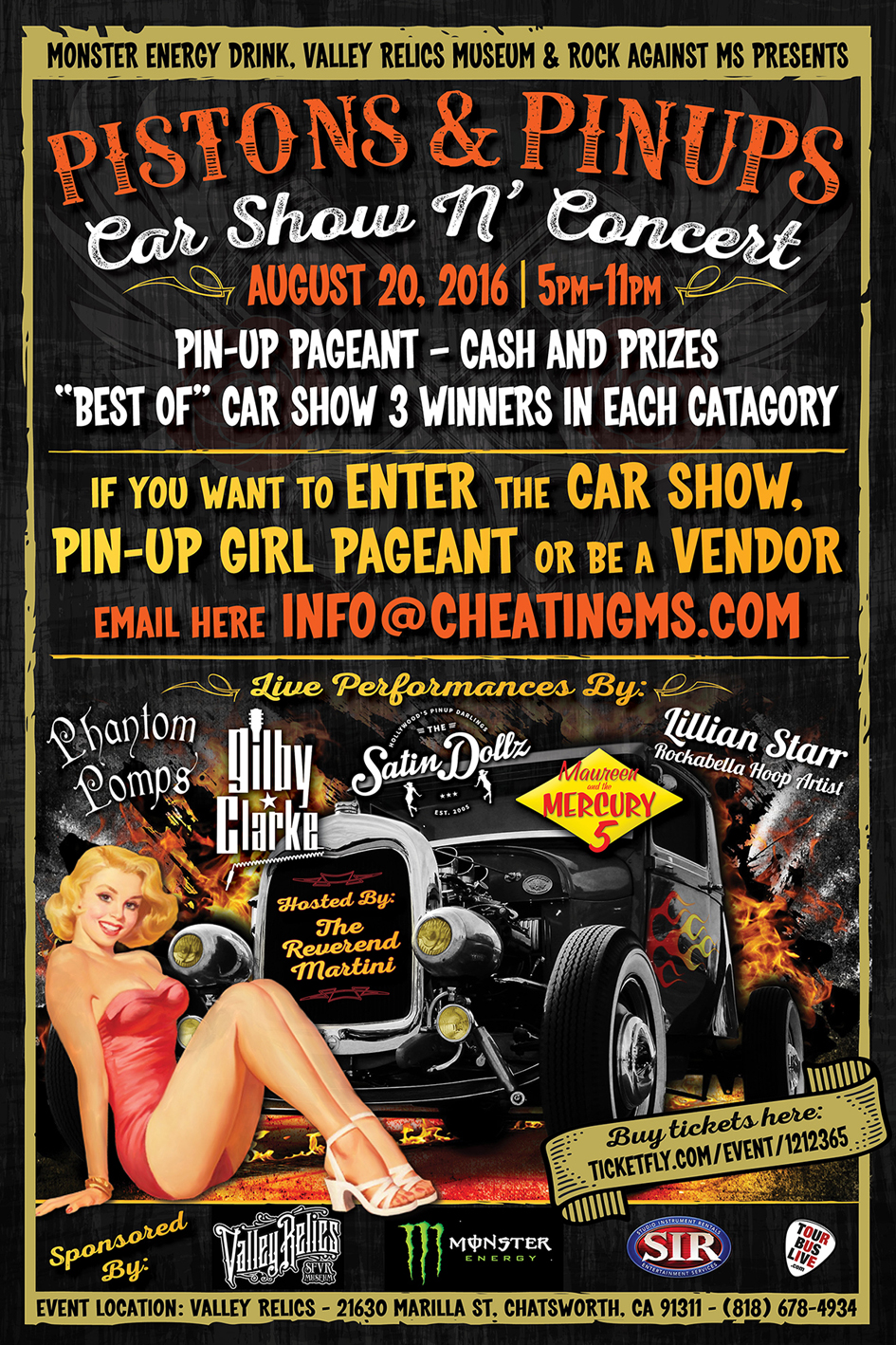 While the stage changes, you will see some of the most beautiful, classiest pin-ups will be sweeping the platform in the 1st Annual "Miss Piston & Pin-Ups" Pageant! The pageant will be judged by some of Hollywood's beautiful ladies GRETCHEN BONADUCE (TV Celebrity/Producer), KELLY KATHLEEN (Pinup & cover model) & AVERY MISURACA (Comic Con Fav. Vampirella/James Girl Pinup Model).
While there, you will get to enter the now famed Valley Relics Museum with some you can visit the Vendor Village and the food court for some tasty treats!!
WHEN: Saturday, August 20th 2016
WHERE: The Valley Relics Museum – 21630 Marilla St., Chatsworth, CA, 91311
GATES: 5:00PM, Stage Starts at 5:30PM
TICKETS: GENERAL ADMISSION – $25, VIP – $75 – includes goodie bag, drink tix, VIP garden with private bar, CHILDREN UNDER 9 – $10
PURCHASE: BUY TICKETS HERE: www.ticketfly.com/event/1212365
EMAIL TO: ENTER YOUR CARS, PIN-UP PAGEANT or become a VENDOR at info@cheatingMS.com
SPONSORS: GALPIN FORD, MONSTER ENERGY DRINK, VALLEY RELICS MUSEUM, SIR, THE PRINT LAB, SOUND & LIGHT EVENT PROS, THE BROADWAY THEATRE GROUP LOS ANGELES, ART & COMMERCE PRODUCTIONS
About Multiple Sclerosis
Every hour in the United States, someone is newly diagnosed with MS, an unpredictable, often disabling disease of the central nervous system.
MS interrupts the flow of information from the brain to the body and stops people from moving.
Symptoms range from numbness and tingling to blindness and paralysis. The advancement, severity and specific symptoms of MS in any one person cannot yet be predicted, but advances in research and treatment are moving us closer to a world free of MS.
Most people with MS are diagnosed between the ages of 20 and 50, with more than twice as many women as men being diagnosed with the disease.
MS affects more than 400,000 people in the U.S. and 2.1 million worldwide.
About Rock Against MS Foundation, 501c3
In its finishing stages, the ROCK AGAINST MS FOUNDATION will provide services from a three (3) grant resource system, which will provide daily care, quality of life needs and emergency funding, while assisting people with multiple sclerosis (MS) to live independent and full lives. Additionally, a brick and mortar facility we will call THE ROCK HOUSE is in the planning stages, and will provide free of charge, multiple programs and opportunities designed to heal the mind, body and spirit of all those whose lives have been affected by MS.
For more information go to www.facebook.com/rockagainstMSfoundation