Most have no idea who in the hell Thom Panunzio is. But, if you are familiar with these names – Aerosmith, Alice Cooper, Black Sabbath, Bob Dylan, Bruce Springsteen, Fishbone, The Go-Go's, Iggy Pop, Joan Jett and the Blackhearts, Motorhead, Ozzy Osbourne, Poison, Soul Asylum, Stevie Nicks, Tom Petty and the Heartbreakers, and U2 – you indirectly know Thom Panunzio. As a music engineer, mixer, and producer, Thom Panunzio is perhaps beyond compare in his field, with maybe a few exceptions. The talented individuals he's collaborated with over the decades is like a who's-who of the music biz.
Interview and photos by John Grafman
As AutoDesignO has pointed out before, there is shared artistry in creating music and unique cars. At the 2020 NAMM Show in Anaheim, California the music manufacturers from all over the world exhibit their wares for the music merchants. This convention also is a mecca for the musicians that make the magic happen. Like Thom Panunzio, countless professionals in the music industry have an affinity for rolling works of art. Just ask them, and most have a few car stories to tell.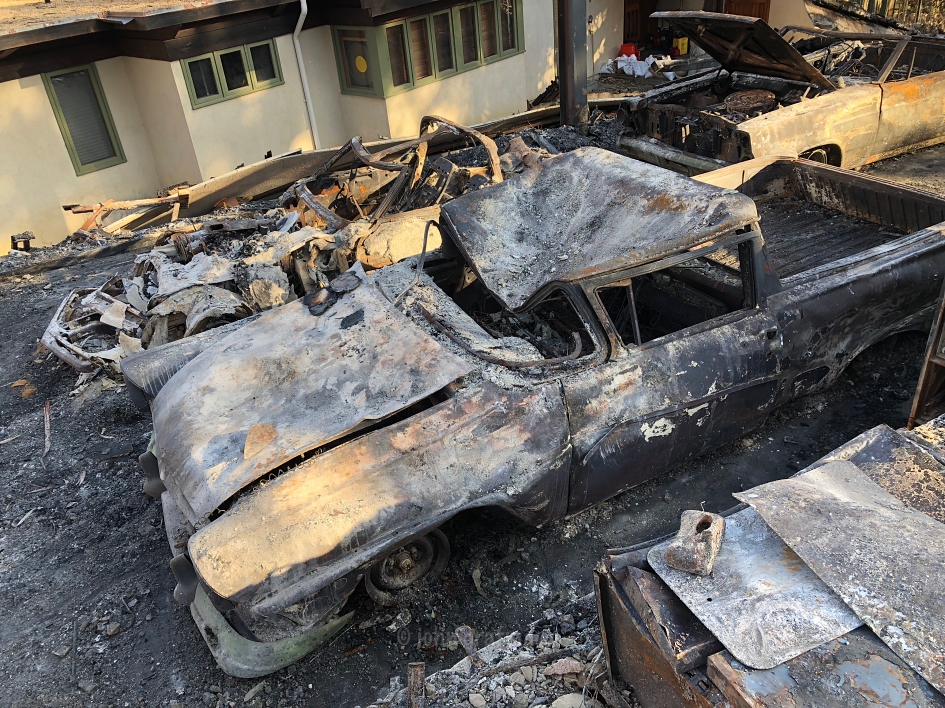 Sadly, Panunzio lost his garage, his collection of cars, as well as numerous gold records due to the fires of Malibu in spite of a valiant effort on his part to fight the blazing flames. While the cars are now little more than charred metal carcasses, the memories still linger. Fortunately, Thom graciously shares those with us in this interview.
___________________________________________________
AutoDesignO: Thom, can you tell me a little bit about some of the cars you've known and loved over the years?
Thom Panunzio: Well, I've loved a lot of cars, most cars. I love cars (laughs)! I had some special cars over the years. I just lost my three most special. I had a 1973 Corvette, white with black leather interior. A beautiful car that I bought new in '73, and saved my pennies for many years to get that. And just loved that C3 style. And when the '73 came out, there was the one in the showroom window. And I drove by it one night and stood there for four hours looking at it and decided that I had to have one. And I was actually looking for a '69, or a big block C3. But when I saw that brand new '73 in the window, it was so new looking with the same color without the chrome on the bumpers, which is now the way to make cars.

Alice Cooper (L), Joe Perry (R) at the NAMM Show Tech Awards
But I had that for my whole life. Pretty much, it seems, because when I bought it I was just a kid.
The styling sold me. It had less horse power that year than the years before. It didn't have the chrome bumper, which is preferred. But the styling of the whole thing really sold me on it. Interior was just gorgeous and the black leather. Everything about it. And I had, of the hot rods, I wanted a car that I could look like a rock star in… and get girls. That car did it, man!
AutoDesignO: Do rock stars really need the cars to get girls?
Panunzio: Well, I was never really a rock star, but [did] everything else. I just loved the car.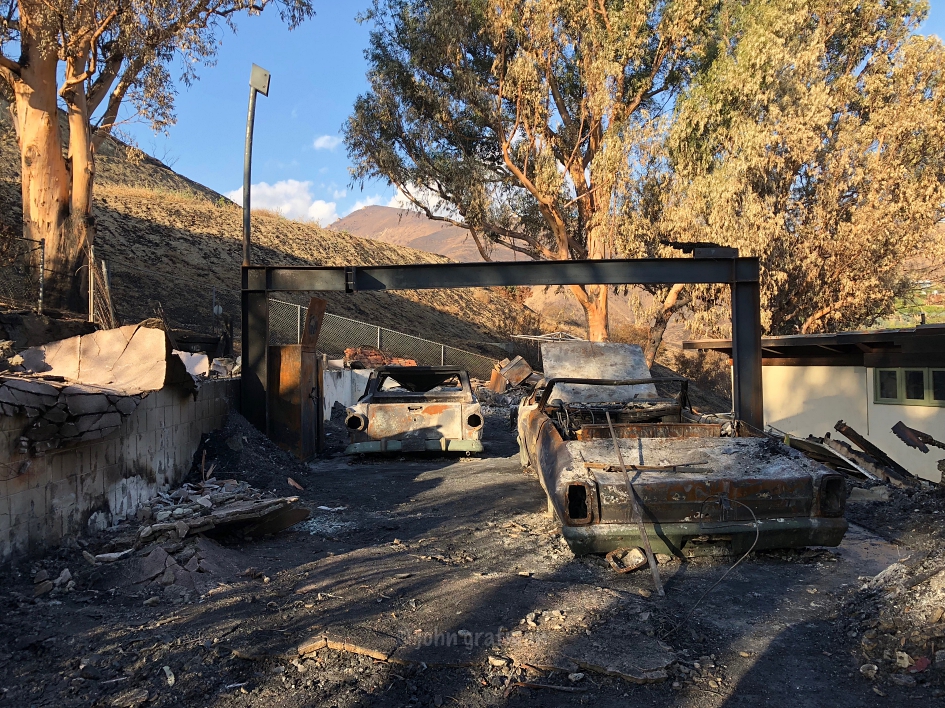 And, then I had a '67 Ford Fairlane, beautiful dark red blacktop convertible. Black interior. It was my aunt's car. She bought it new. And, she lived up in Rhode Island when I was very young. My aunt used to take me to the beach in it. And in 1980, I think it was, she gave it to me. It needed some work. The engine and interior were perfect. It needed a new top. The body had some rust. So I redid the body. I took off all the extra chrome and steel on the car. I left some of the badges but took off all the trim and welded up the holes. And, the rear quarter panel behind the tires, the Fords always rusted out there. Fixed that.
As it turned out, I repainted it and put some nice wheels on. Did the suspension. It was a beautiful car. I had a big 390 big block in it, which was rare for the light little convertibles. I lost that in a fire also. And, I had that car from the time I lived on the East Coast, as I did the Corvette. I brought them out here. That car was my everyday car for quite a while.

Joan Jett at the Sunset Strip Music Festival / House of Blues
AutoDesignO: … So, with the cars that you've had recently, and the ones that you've lost in the Woolsey Fire, what is it that you look for in a car that's inspirational, that just visually excites you?
Panunzio: Well, the other car that I lost was a '57 Ranchero. The first year of the Ranchero. And I was only six years old when that car came out. But I remember I used to go through magazines at a very, very young age and cut out all the pictures, and glue them into a notebook of cars. And I knew every car there was, and I remember seeing an ad for that. I had already seen the ad for the '57 Fairlane, and I loved it. And still to this day, I feel like that's me. That car is, I feel, the most comfortable. And that style… the whole thing! And when I saw the Ranchero, which was the first year of the Ranchero, the El Camino didn't come out for two years after that. So there was nothing like that, and I always liked trucks.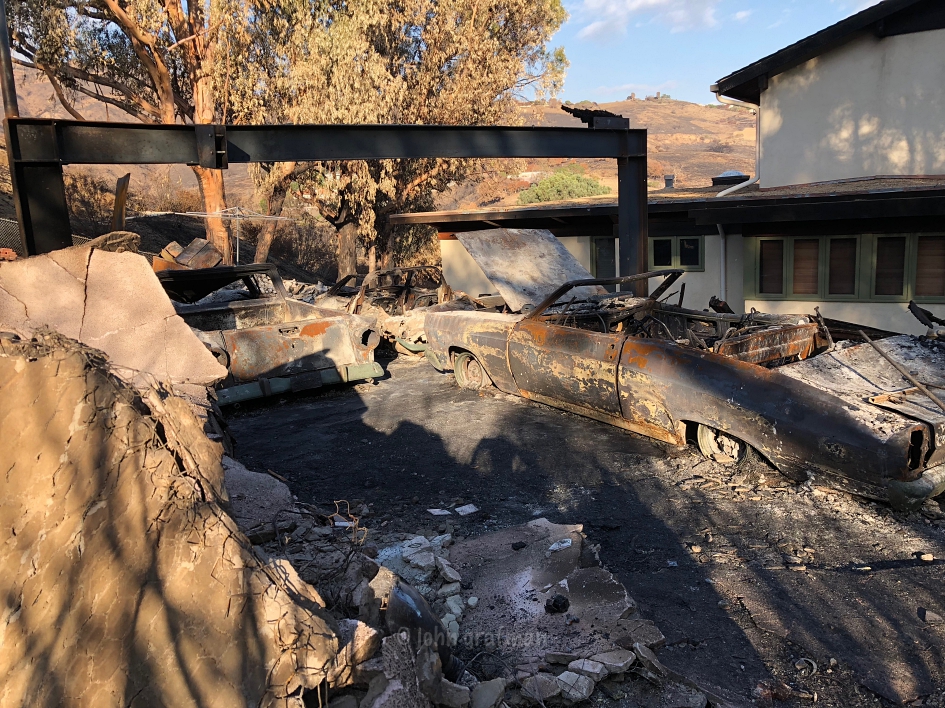 I knew what the Deuce Coupes and '34 Fords and all that looked like. And, I loved hot rods, and I always wanted a hot rod.
I also loved the '57 Thunderbird, and I had an uncle that had one. And I thought one day I was going to get the car, but that didn't happen. But I just loved the styling that year, and when that first Ranchero first came out.
So, cut to early '90s, and I'm driving down the street with my wife and daughter in Los Angeles, down below Sunset somewhere, [I think] La Cienega. And I saw one in a driveway with a for sale sign on, and I just pulled right over. I said, "Give me a minute." I ran in, and I bought the car, just like that! And I had that (Ranchero) until the fire. Up until last year.

Angelo Moore (Fishbone) at The Mint
AutoDesignO: Now, the music industry has a special relationship with the auto industry in that there are so many songs that are both influenced by cars, or about cars. Can you tell me a few that stand out in your mind? And some of the artists, how they're influenced?
Panunzio: The people in the music industry love cars. And there's been a lot of car designers that were big music fans, too, I'm sure of. Car designing is an art just like music is, just like painting is. There's a lot of people that love painting that love music, appreciate great painters and appreciate great musicians. It all kind of goes together under the big word "art".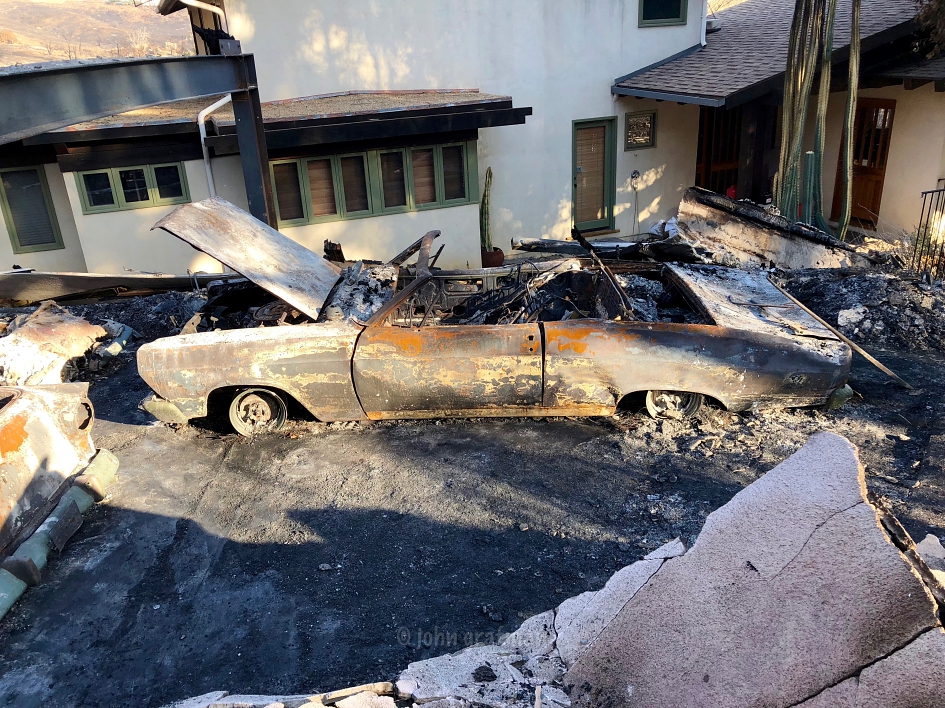 But back in the '40s, when Rocket 88 was made, it was the first song about a car. And it was because the culture was turning into a car culture. That roads were linking the country all together, and people were able to buy cars after Henry Ford started making Model T's at a price that people could afford. And so, the drive-ins, the diners that you pulled up to, the take-out windows, or the girls on roller skates, everything was getting geared to the drive-thru!
It was getting geared to the car culture. It was part of the American dream, the American way of life. So, it was only normal that a lot of people that were into art, and people that were into cars, that the whole thing meshed together. The ones that I think were the greatest car songs written were The Beach Boys. They really captured the youth of America, especially on the West Coast where the car culture, by the time The Beach Boys had formed, was huge. As was the surfing world.
And so that's what California youth were about. That was the dream that everybody on the East Coast had, like myself. Come to California and the girls in bikinis, and being on the beach and surfing, and the cars. We had cars on the East Coast, and if you were a gear head, there was plenty of cars for you. But it wasn't the culture quite like the way California was. All the greats were out here. The speed shops were out here. The original hot rodders were out here. They had the dry lake beds. They had Mulholland Drive. They had a lot of places to drive, to race.

John Norwood Fisher (Fishbone) at The Mint
The Beach Boys really captured the spirit of being young, but they also were very authentic. And they were very precise about what they were singing and their facts. And Brian Wilson, I don't think was ever a real gear head, as he was never really a real surfer. That'd be Dennis was really the surfer in the band. But he knew what it was about, and he felt it. And he was smart enough that most of the car songs that The Beach Boys wrote, he had a partner, a co-writing partner that was a real gear head, Roger Christensen.
And Roger was a poet, and songs like Shut Down, one of the most detailed lyrically song about cars singing about technical things. The size, the pistons, boring it out, but it also was really capturing the feeling of the drag race. The original song was a poem that Roger Christian wrote. And Brian Wilson took it and turned it into a song. Brian changed some of the lyrics, of course. He was very smart when he sang about surfing, and surfing locations. He knew all over the world where the people really surf, from Hawaii to the East Coast, to Florida, to wherever. And he sang about them, and it just made you want to do it. Made you want to be there. Made you want to go to those places.
AutoDesignO: So, of the artists that you've worked with, do any of the cars that they've owned stand out in your mind?

Joan Jett and the Blackhearts at the Sunset Strip Music Festival
Panunzio: Well, Bruce Springsteen, had a bunch of motorcycles and cars. He always had cool cars. He had a '60 Corvette. A friend of mine, who was a mechanic, lived on the property that I was renting. He was renting there, too. We had a bunch of garages. We kept Bruce's Corvette there for a while.
Jeff Beck is a fantastic hot rodder. Jeff Beck, he's a real gear head. He builds his own cars. He has a nice collection of real hot rods, Deuce Coupes and stuff. Roadsters. Everything.
Nick Mason from Pink Floyd has an enormous, very high-end European race cars collection. So, there's a lot of musicians that have cars. As far as songs they wrote, a lot of people sing about cars because that's still the American way. A lot of guys don't even have to be gear heads. Sammy Hagar, which I think he's a gear head. I Can't Drive 55, songs like that. What The Beach Boys did was they actually wrote songs about the car. They didn't use the car to make a picture of the whole scene that the song is trying to tell. They actually wrote songs about the cars, and got very, as I said, precise, and just some of the lyrics are so technical.

Angelo Moore (Fishbone), with Jesse Hughes, Eric McFadden at The Mint
People say to me, "What is he talking about? I know what ported is, but what's relieved?" And that's something they did on flathead motors that the real, real hot rodders did to maybe get more power and everything. But they were very authentic. Jan and Dean captured it with Drag City, and they wrote with Brian. So it was kind of a whole thing, but nobody, I don't think, ever sang about cars the way The Beach Boys did. Made the song about a Little Deuce Coupe, or Cherry Cherry Coupe, or 409 (that's the cubic inches of the motor). That's how much they're singing about the car, and how detailed they're getting about it.
AutoDesignO: And Joan Jett has done a remake of The Beach Boys song…
Panunzio: Oh, Fun Fun Fun. Yeah. Yeah. Yeah. Well, that's because her main man, Kenny Laguna, he's both a Beach Boys and a real car fan. And [Kenny's] had some nice cars. And Joan has, too. She has a Jaguar that's in the Rock and Roll Hall of Fame museum.
A lot of people [love] the way Chuck Berry sometimes mentioned details about a car or whatever. But, basically, it was singing about Cadillacs and just what was cool, and what made you get girls, and stuff like that. But over the years there's been a lot of groups that have sang about about cars, motorcycles, whatever… and it all kind of goes together!
Thom Panunzio's new ride, the Ford Raptor, is a go-anywhere, kick-ass machine. Beyond a shadow of a doubt, if there's another natural disaster along the coast, the Ford Raptor can find a way out in a hurry. More info on Panunzio and the talent and projects he's associated with can be found here.
Related Images: