2017 Alfa Romeo Giulia Quadrifoglio Delivers Italian Style With Benchmark-level Performance and Precision to the Premium Mid-size Sedan Segment Created With the 'Mechanics of Emotion'
• Built in Italy, the Giulia Quadrifoglio Delivers Class-leading 505 Horsepower, 0-60 in 3.8 Seconds and a Record-setting 7:39 Nürburgring Lap Time – the Fastest Ever by a Four-door Production Sedan
• Alfa Romeo – the heart and soul of the automotive industry – is returning to the U.S. with an all-new lineup of vehicles, starting with the award-winning 4C Coupe and 4C Spider, inspired by the timeless 33 Stradale, and now the all-new Giulia premium mid-size sedan
• Ferrari-derived 505-horsepower bi-turbo V-6 makes the Giulia Quadrifoglio the most powerful Alfa Romeo production car ever, delivering 0-60 miles per hour (mph) in 3.8 seconds and a top speed of 191 mph, while cylinder deactivation reduces real-world fuel consumption by up to 15 percent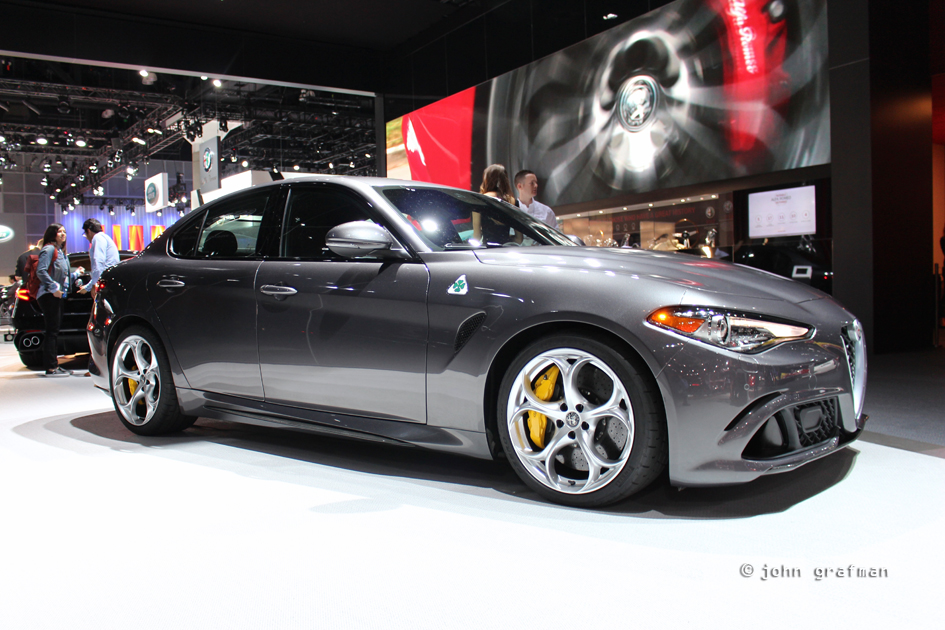 November 18, 2015, Auburn Hills, Mich. – As the first of a new generation of vehicles built on an all-new platform, the 2017 Giulia Quadrifoglio embodies Alfa Romeo's La meccanica delle emozioni (the mechanics of emotion), delivering race-inspired performance, advanced technologies, seductive Italian style and an exhilarating driving experience to the premium mid-size sedan segment.
"The all-new Giulia is not just a new car, but an entirely new benchmark that represents the next chapter in Alfa Romeo's rich 105-year heritage," said Reid Bigland, Head of Alfa Romeo Brand, FCA – North America. "With an all-new lightweight platform and class-leading power and handling, the all-new Giulia delivers on the pedigree of incredible technology, race-inspired performance and Italian design and style."
Crafted by Alfa Romeo artisans at the Cassino plant in Italy, the all-new 2017 Giulia Quadrifoglio is the ultra-high-performance model in the lineup and a testament to Alfa Romeo's perfect balance of engineering and emotion, creating a premium sport sedan for driving enthusiasts that stands out in the segment. 

Incorporating next-level technologies, the Giulia Quadrifoglio features a Ferrari-derived 505-horsepower bi-turbo V-6 engine, Alfa Romeo's most powerful production car engine ever, cylinder deactivation and carbon fiber active aero front splitter for improved handling at high speeds. Race-inspired performance is achieved courtesy of the Giulia's extensive use of ultralight, high-strength materials, which include a carbon fiber driveshaft, hood, roof and more – all for a best-in-class power-to-weight ratio and near perfectly balanced 50/50 weight distribution, resulting in a class-leading 0-60 miles per hour (mph) time of 3.8 seconds and a record-setting Nürburgring time.
And similar to all great Alfa Romeo vehicles, the Giulia features stunning Italian design with impeccable proportions and attention to detail that enables a timeless Alfa Romeo style with world-class craftsmanship. Following the launch of the all-new 2017 Giulia Quadrifoglio, Alfa Romeo will introduce the full-line of Giulia models that further take on the heart of the premium mid-size sedan segment. This will include impressive technology offering a class-leading 276 horsepower on the entry-level Giulia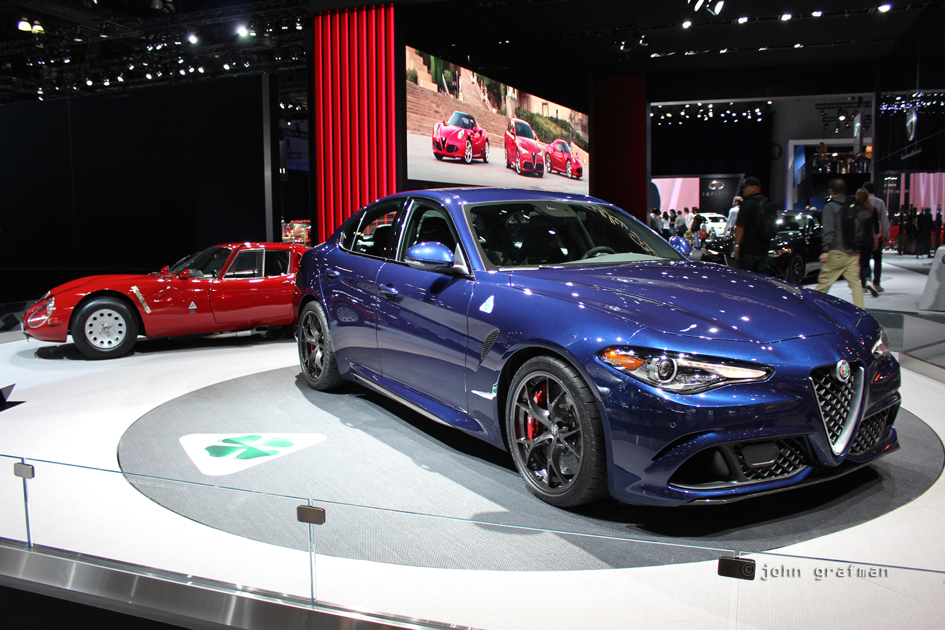 Styled with passion: High-performance, functional and seductive Italian design

With its muscular proportions and a "pure" design ethos of passion, lightness and simplistic elegance "clothing" its class-leading technical layout with near perfect 50/50 weight balance, the all-new 2017 Giulia Quadrifoglio exudes stunning and functional Italian style with a finesse of Alfa Romeo heritage, athletically taut lines and sculptural details.
Alfa Romeo designers styled the proportions of the all-new Giulia to have commanding presence and a menacing face determined to take on the world's best roadways and road courses. A large signature "shield" grille is elegantly sculpted within the front fascia to form the signature "Trilobo," a signature of Alfa Romeo design. Flanking the signature grille with the all-new Alfa Romeo logo are bi-xenon projector headlamps, which include an adaptive front-lighting system (AFS) to better adjust to the curvature of the road, while LED daytime running lights (DRL) provide a signature appearance.
Below, a segment-exclusive active aero front splitter helps the Alfa Romeo Giulia Quadrifoglio achieve best-in-class aerodynamics (0.32 Cd) and actively manages downforce via a front carbon fiber splitter for optimal stability at any speed.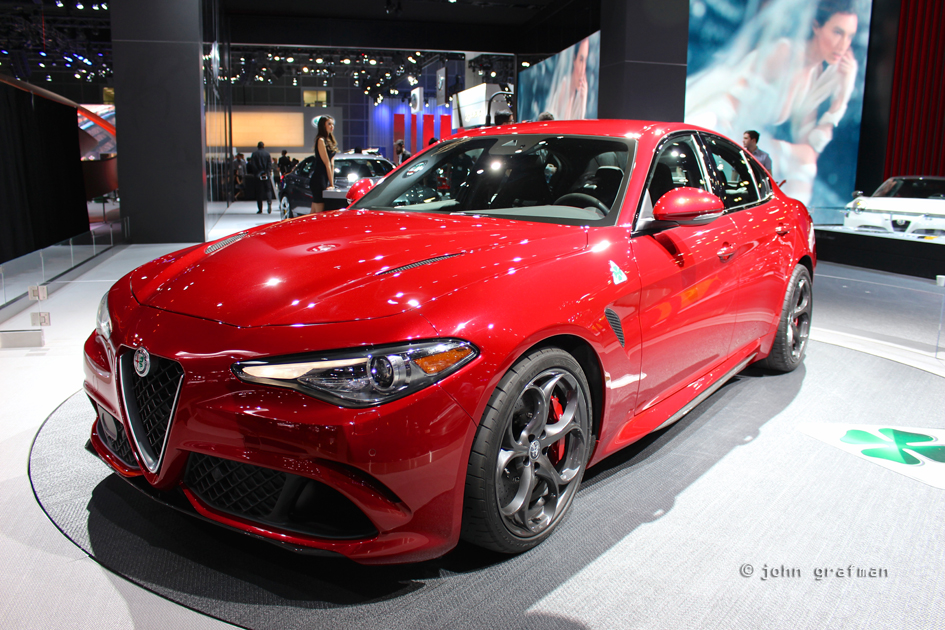 Alfa Romeo Giulia's side profile proportion highlights the near perfect 50/50 weight balance and seductive Italian design. To "skin" the class-leading technical layout required for an all-new benchmark-level performance sedan, Alfa Romeo designers provided Giulia with extremely short overhangs, long hood and front fender proportions, plus a passenger compartment straddled between muscular rear fender forms to deliver a "settled" look over the drive wheels – stylistically marking the point where power is unleashed onto the road.
Taut lines, including the elegantly sculpted character line along the bodysides, mark the doors and envelope the handles while naturally leading back to the legendary V-shaped nose. Rounded angles and enveloping pillars draw from Alfa Romeo's rich design heritage and recall the "drop-shaped" profile reminiscent of the Giulietta Sprint, one of the most beautiful cars ever made. Even from plan view, Alfa Romeo designers gave the Giulia an organic, "ellipsis" design appearance to add to the all-new sedan's timeless character. Finishing off the Giulia's athletic appearance are massive Brembo brake calipers with available staggered-fitting 19-inch Dark Gray five-hole design wheels that hark back to the brand's stylistic heritage. Short overhangs and deck lid further emphasize the all-new Alfa Romeo Giulia Quadrifoglio's muscular rear fender forms and road-holding stance.
Elegantly shaped tail lamp features are drawn horizontally to highlight the performance sedan's width, while LED rear light clusters further highlight Giulia's use of advanced technologies. Like the front, the rear of the Giulia Quadrifoglio also manages airflow with its integrated diffuser, which helps channel air and provides additional stability at high speeds and downforce in corners. Finishing off the rear is a sport, dual-mode exhaust system with quad tips that delivers a signature Alfa Romeo exhaust note.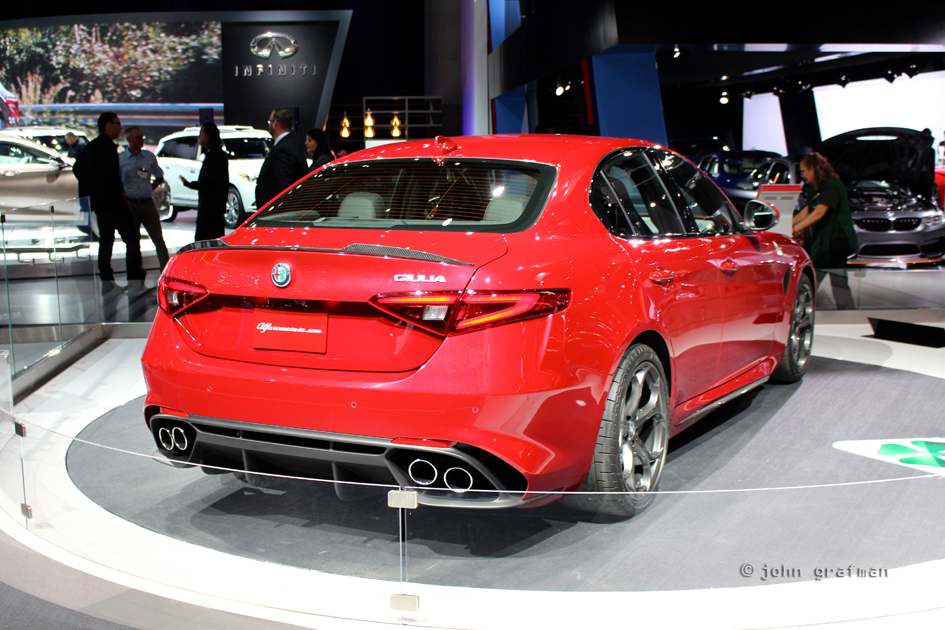 Crafted around the driver 

Built around the driver, Alfa Romeo Giulia Quadrifoglio designers focused on simplistic elegance, with a focus on incorporating the essential elements for performance. Inside, Giulia's high level of craftsmanship starts with an asymmetric-styled instrument panel, featuring a driver-focused cockpit.
Wrapped in ultra-premium leather and Alcantara, and highlighted by authentic carbon fiber, aluminum and accent stitching, the Alfa Romeo Giulia features a bespoke look that could only be crafted in Italy. A Formula-1 inspired steering wheel features a thick-rim profile that transmits the chassis' direct-steering feel and neatly groups the vehicle controls and the red engine start button. Behind the steering wheel, the Giulia features a full-color 7-inch driver information display (DID) cluster straddled by two large white-on-black face analog gauges. 

At the center of the interior, Alfa Romeo Giulia's all-new 3-D Navigation offers an intuitive, yet sophisticated series of features, including a high-resolution 8.8-inch widescreen display with real-time vehicle performance pages and telemetry, plus 3-D graphic navigation.
A short-shift six-speed manual shifter elevates proudly in the center console, while the all-new and ergonomically located Alfa Rotary Pad offers a gesture recognition system, allowing the driver to interact with the 3-D Navigation system simply by moving fingers on the pad.
Highlighting Alfa Romeo Giulia Quadrifoglio's best-in-class power-to-weight ratio, ultra-lightweight carbon fiber shell, Sparco racing seats are available and provide maximum lateral support during extreme cornering on the track. With even more aggressive bolstering than Giulia Quadrifoglio's standard leather and Alcantara high-performance sport seats, these race-inspired performance seats are the lightest in the segment, yet provide comfort for long road trips.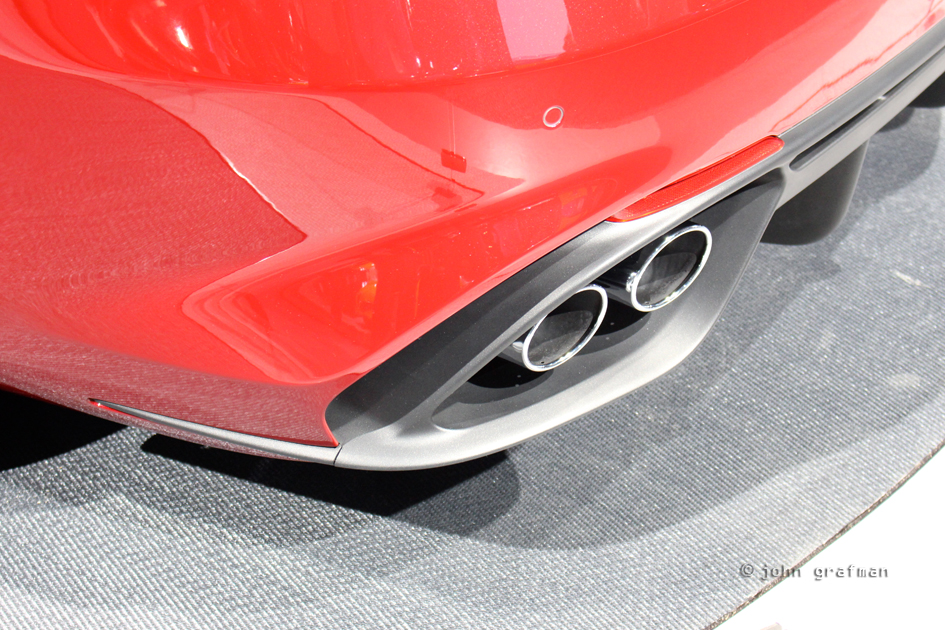 A vivid array of colors, materials and design details

Adding to the excitement of owning an Alfa Romeo Giulia Quadrifoglio are the personalization options that each enthusiast can select. 

Up to seven exterior colors are available and include: Rosso Alfa (Red), Vulcano Black Metallic, Silverstone Gray Metallic, Montecarlo Blue Metallic, Vesuvio Gray Metallic, Trofeo White Tri-Coat, and Rosso Competizione Tri-Coat (Red).
An array of five premium leather and Alcantara interior combinations are available on Alfa Romeo Giulia Quadrifoglio. First, an all-Black interior with a choice of Black, White and Green or Red accent stitching. A two-tone Black with Red interior with Red accent stitching further highlights the brand's Italian design.
For a bespoke look, Alfa Romeo Giulia Quadrifoglio also offers a two-tone Black with Ice interior combination with signature Green and White Quadrifoglio accent stitching that pulls from Alfa Romeo's historic and high-performance logo.
Four wheel designs are available for the Alfa Romeo Giulia Quadrifoglio, including staggered fitting 19 x 8.5-inch (front) and 19 x 10-inch (rear) lightweight forged aluminum "Technico" wheels in Bright Silver, or optional Dark Gray. In addition, Alfa Romeo's signature five-hole design alloy wheels in Bright Silver or Dark Gray are also available.
View the expanded auto show images at https://autodesigno.com/?p=5172
Related Images: