Interview and photos by John Grafman

Often, the inspiration behind a project gets lost in time. Fortunately, Adam Berry – Creative Designer for Camaro – can trace back some of the origins of the 2018 Hot Wheels 50th Anniversary Camaro. The spark that sets a design on course can be relatively simple, such as a paint color, but have great significance.
Developing a limited-edition car, one based on five decades of success, comes with great responsibility. Adam gives us a hint on what it takes to make this Chevy a standout.
___________________________________________________
Adam Barry: About two years ago we started working on the idea of doing a 50th anniversary Camaro with Hot Wheels 'cause the 50th is coming up. It's one year after our 50th, and so we're trying to figure out what it is we want to do, and there was an outcry from the community looking for orange, in general, for the Camaro. Then there were people wondering with the 50th of Hot Wheels coming together, and these separate sorts of ideas came together. And, we figured maybe the perfect color for a Hot Wheels Camaro might be orange, 'cause we don't have one.
Once we had established that… and Hugger Orange debuted in 1969 – it's kind of close to 50th anniversary of Hugger too. With all that coming together, it made sense to see what we could do with the orange. So, I kind of wanted to make the car look a little bit different than a regular Camaro, so I added a splitter, a rocker, a spoiler, customer forge wheels, a unique stripe, and then my interior counter-parts. They went and added an orange interior in the car.
So this special model, with orange seat belts and everything and the orange brake calibers, this special model will be something that would for sale for six months, and it'll be a collective item forever.
Because I played with Hot Wheels as a kid, my first toys were Hot Wheels – my first car was the Hot Wheels – you know, it's always really nice to come full circle working in the industry. And getting a chance to get back together and be at a place like this and an event like this where a Camaro that I worked on, not only is a Hot Wheels edition but is the first full-size car that's going to be inducted into the Hot Wheels Hall Of Fame in the garage. So, it's been a really good day for me.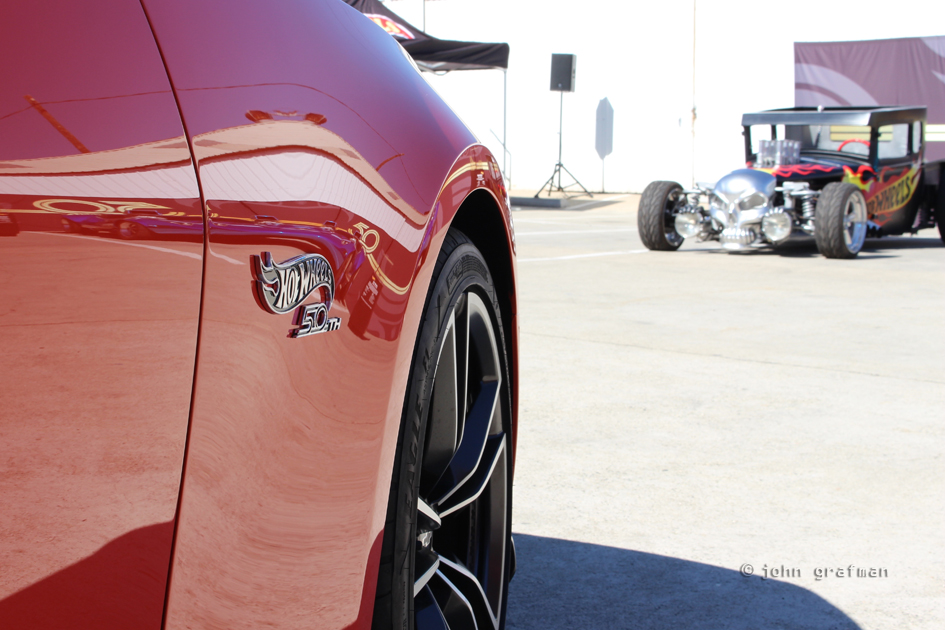 AutoDesignO: Is it projects like this, these special projects that really ignite your passion?
Adam Barry : Actually, yes. I mean, it's always great to work on the mainline car. We make 100,000 of them. Hundreds of thousands of them over years. Then they're everywhere, and after they cool it (cease production) … At some point what the people end up remembering the most are the special editions.
If you think back to the first gen, people will talk about Yankos and Copos and they'll talk about Z28s, and for us to work on special editions [big smiles] – 'cause I've worked on transformers before, 50th anniversary cars before. Indy pace cars before.
When you're designing a car for a particular client that's really going to love it and bring them to their family as a signature item for themself, you put so much money and time into it. That drives me to put more time, energy into it to make it unique, as a signature for them. In this new car there's even details I haven't even talked about yet that are really cool signature elements hidden throughout this car that I think that the customer's really going to appreciate. They might not even find it for like a day or two later. Some of the stuff I have hidden inside here.
________________________________________________
The 2018 Camaro Hot Wheels 50th Anniversary Edition is available on 2LT and 2SS coupe and convertible models with the following content:
Satin Graphite stripes with Silver Ice Metallic accents
Satin Graphite ground effects
20-inch forged aluminum wheels (with summer-only tires on SS) in Satin Graphite with milled faces and unique center caps
50th Anniversary Hot Wheels fender badges
Unique grille with Galvano Chrome inserts
Orange brake calipers
Dark taillamps
Black taillamp panel with the Hot Wheels emblem
Black Chevrolet bowtie emblems
Jet Black leather-appointed interior with exclusive orange inserts and orange accent stitching
Orange kneepads on the doors and orange safety belts
Embossed front-seat headrests
50th Anniversary Hot Wheels badge on the steering wheel
Illuminated doorsill plates with 50th Anniversary Hot Wheels badges
Premium carpeted floor mats with orange stitching and "ghost" stripes

This model will only be available for a six-month run in 2018.
Save
Save
SaveSave
SaveSaveSaveSave
SaveSave
SaveSave
SaveSave
SaveSave
SaveSave
SaveSave
SaveSave
SaveSave
Related Images: