Article and images by John Grafman
Southern California is paradise. On any day of the week it's possible to see one rarified model or another cruising down virtually any of the neighborhoods that comprise this vast metropolis. There's also all manner of gatherings, such as Cars And Coffee from Malibu to Newport Beach. Plus, there are incomparable auto museums to fill the void of untouchables.
It seems that no stone is left unturned in this city that lives and dies by the automobile. But, there is one secret spot left (okay, perhaps a few) that yields an unexpected assortment of iconic machines. Ironically, this hidden treasure we are at today is surrounded by millions of Angelinos.
Inside and adjacent to the spacious Barker Hanger on the weekend of June 24-26, Auctions America is holding it's third annual sale, which is next to the Santa Monica Airport. Barker Hanger is also so close to the VW/Audi Design Studio that you can almost hear the designers bantering back and forth.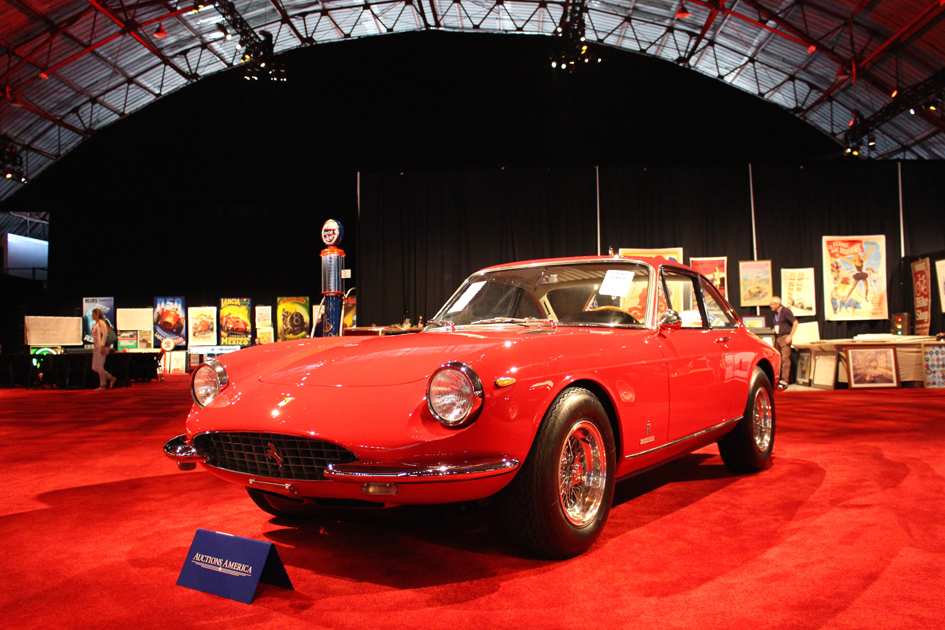 The venue is decked out appropriately for the event, and all the bases are covered from a VIP area to cocktails. This interactive opportunity is a perfect chance to speak with a few insiders. On hand, Chris Brown offers some info on the cars rolling across the runway. Mike Malamut and his wife are here to buy and sell a few cars for their staggering collection.
It doesn't take much to get into a conversation. The favorite topic seems to be centered on our bad habits of lusting over cars that we should be smart enough to steer clear of. But, that's why we are enthusiasts and not accountants (not that there's anything wrong with that). One of those people happens to be Bill Windham, Marketing Director for Auctions America. Seems even Bill, who should know better, suffers from the same illness that the rest of us have.
Arriving here early is similar to being a kid locked in a candy store for an entire weekend. Almost no one is around to interfere with the few of us soaking in the radiance of these delights that will soon be crossing the auction block. It's so sweet it's sickening!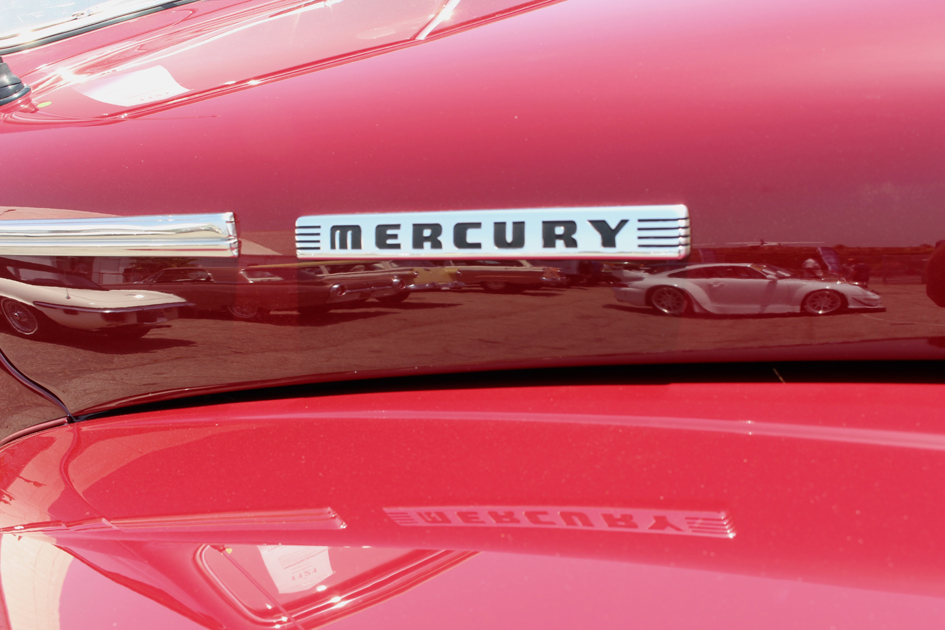 The memorabilia can be pleasingly distracting upon arriving, but the brilliance of the staged cars on the carpeted floor is all too tempting. Like a pinball, auction goers launch toward one display and then rebound towards another. It's not because the next auto is necessarily better, but rather it's due to all of the lots being so curiously seductive.
In total, there are over 300 lots being offered. The Santa Monica auction features dazzling items from collections like the Riverside International Automotive Museum, the Duffy Grove collection, and the Vinnie Mandzak collection. Up for auction are 23 Porsches, 13 Mercedes-Benzes, 12 Jaguars, and 23 Ferraris covering 43 years of production.
Basically, the lots being offered fall into two groups. In the first group, if you don't have an American Express Black Card, forget about it! The second group is much more approachable. In this group you ask yourself later, why in the world didn't I bid on that?
As one would guess, lot 1085 – the 1995 Ferrari F50, one of 355 built, and one of only 55 factory-made for the American market, fetched a boatload of money. Well, a boatload is a relative term. This flawlessly stunning example with less than 2,000 miles on it sold for $1,952,500. Or to put that another way, it's just $162,708 for each of its 12 cylinders.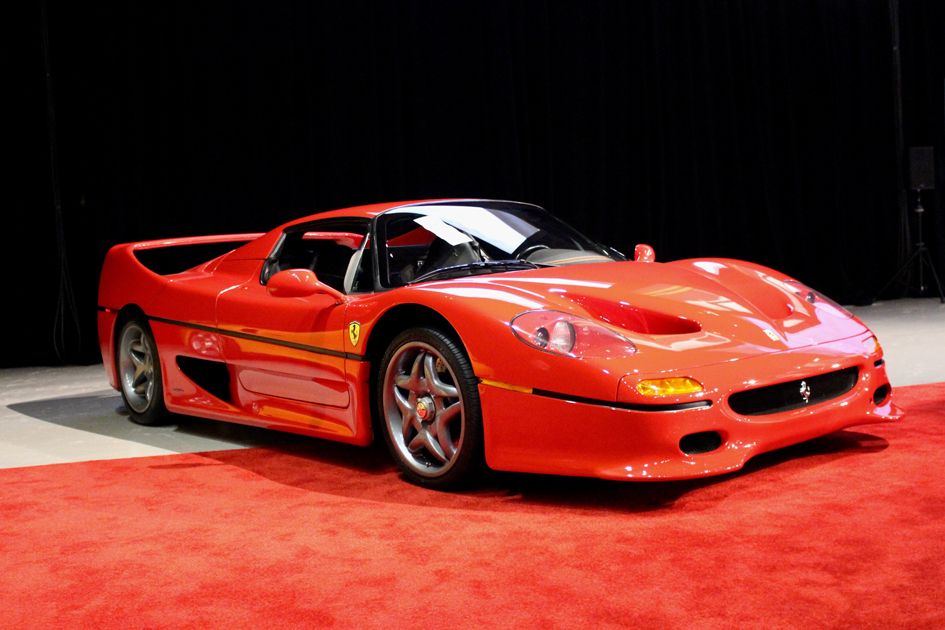 Perhaps a proper German car is more to your liking? Lot 1100 features a 1988 Porsche 959 "Komfort". This is the 117th built in the series of 292 made essentially to comply with FIA Group B homologation rules that require a minimal run of 200.
The Porsche 959 employed cutting edge technology and materials for its time. Even today, the 450 horsepower 2,849 cc, six-cylinder engine with twin turbos and intercoolers can show many a modern supercar just how its done.
Porsche lost money on each one it produced in the 80's at a "bargain" price of $300K. This well-kept beauty with less than 5,000 miles on the odometer found a new, happy home for only $1.25 million.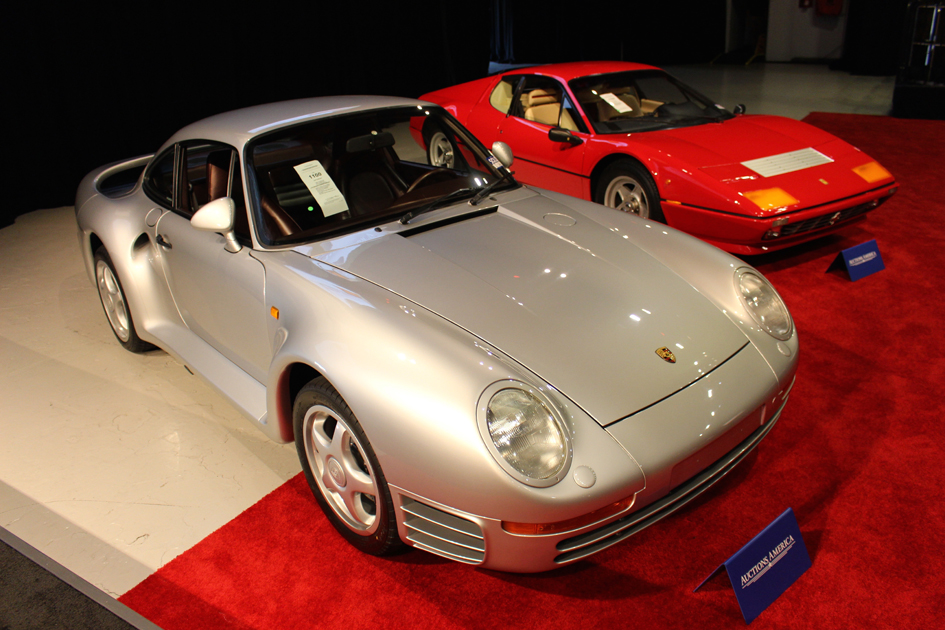 Auctions America has a wide assortment of lots for sale. Some of which are hard to simply ignore and are truly affordable. Thankfully, I don't have a buyers paddle, otherwise I could have found myself the owner of several cars.
A few outstanding selections include lot 2061 – the 1960 Cadillac Coupe DeVille. With what appears to be only 45K original miles, this is a creampuff. The lines of the huge Caddy are spectacular. This encompasses what it means to be American, or at least it did in its time. Bill Mitchell toned down the 1960 model, ditching the outlandish tail fins from the prior year. The Coupe roofline flows uninterrupted without a B pillar, and has a grace that will remain classic for ages.
This has been resting peacefully in Beverly Hills for decades, under the ownership of the late Hollywood actress Ann Rutherford. This majestic land yacht came and went for $34,100. Can one even buy a new Cadillac ATS for that amount?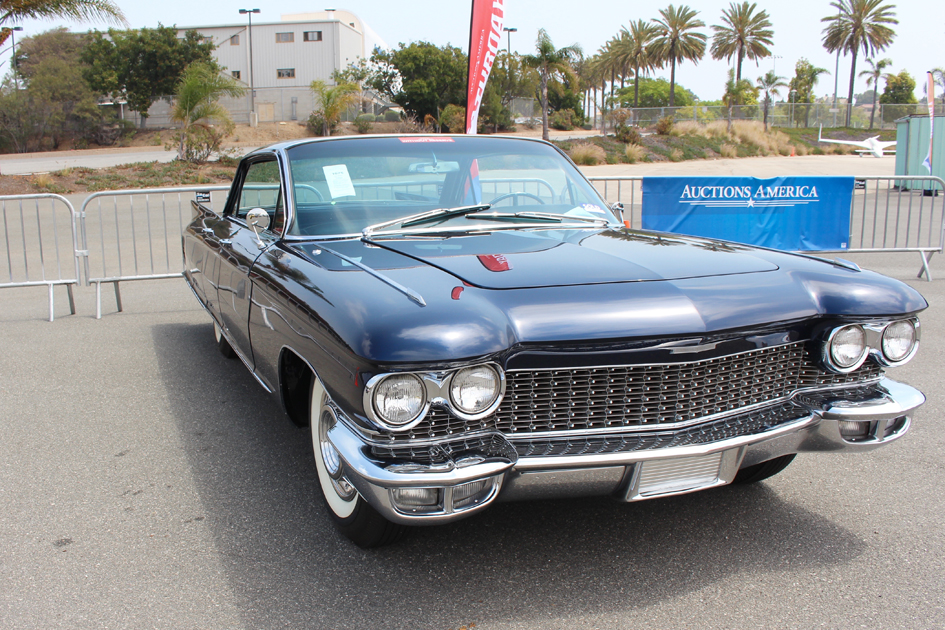 Perhaps top down in a modern British sports car is better for the local area than the massive Cadillac? Would a 1998 Aston Martin DB7 Volante Convertible do? Ian Callum led the design team on this model, as the brand was revived by Ford. Lot 2109 offers a Mendip Blue Metallic DB7 with a matching blue power-operated soft-top. The Parchment colored interior and blue piping on the seats is very tasteful. Certainly, this isn't new with roughly 53,000 miles, but judging by the looks of it, this could have rolled off the showroom floor yesterday. This managed to sell for a scant $24,200! Hmm, it was either the Aston Martin or a new Honda Accord, take your pick.
What is missing at the auction is the well-scripted history of the model and often times extensive, in-depth coverage of the specific car being put up for sale. For that, one needs to turn to the company's detailed web site, that features wide-ranging information and photography.
Auctions America (part of the RM/Sotheby's family) brings to the table one more must see event to the Los Angeles area. And this delight, as sweet as it may be, is free from calories and cavities.
Related Images: