"Audi has a strong heritage in exciting wagon-fans around the world that have, over many years, been drawn to their design, performance and no-compromise character," said Filip Brabec, vice president Product Management, Audi of America. "The passionate response of U.S. customers eagerly awaiting this car was the number one reason we chose to debut the RS 6 Avant to our fans and enthusiasts first."
In fact, not only did Audi roll out the RS 6 Avant ten full days before the press days at the LA Auto Show, it did so for the public at a Cars and Coffee at the Malibu Bluffs Park. And yes, the public was fawning over the latest offering.
Now, even Audi knows that Americans have a love affair with SUVs, hence the Q-line. And, the desire for the once ever-present station wagon has fallen off the proverbial cliff. So, why in the world would Brabec consider the RS 6 Avant a good match for the American market? Well, if there is one thing Americans love, it's a cool machine. The RS 6 Avant fits hits that mark dead-center.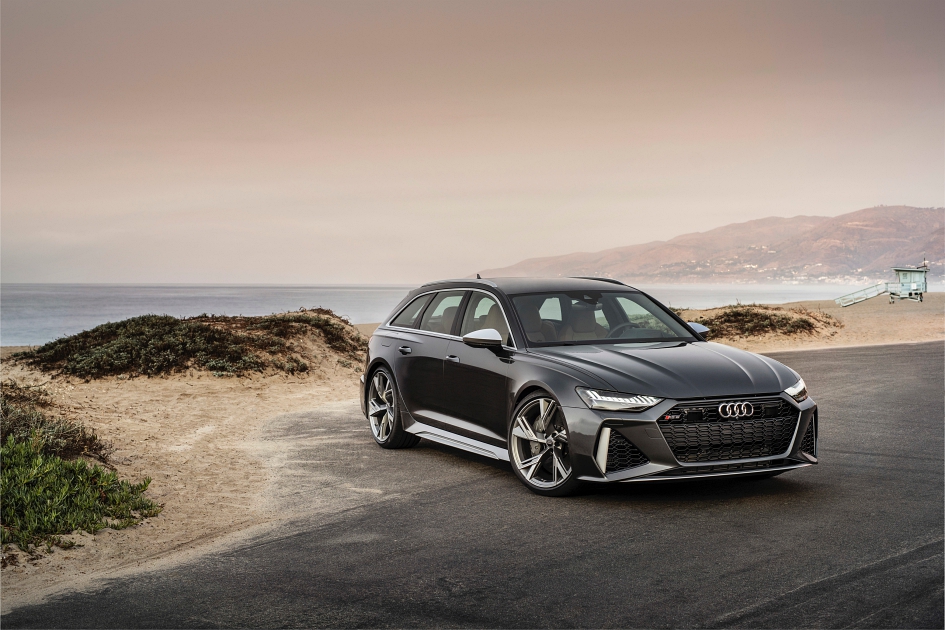 Fortunately, we are able to wrangle Andreas Koglin, Audi RS6 Avant Exterior Designer, between his hopscotching between Germany, Shanghai, and Spain. This allows us a few minutes just off of Surfrider Beach to delve into Koglin's involvement and insight. Certainly, the wagon market is small in this neck of the woods, but Audi definitely has a dog in this fight.
If there is one thing Americans love, it's a cool machine
Andreas Koglin: I'm an exterior designer working for Audi for eight years. And one of my projects I was working with colleagues, with three other colleagues, was this car – the RS6, as a creative exterior designer.
AutoDesignO: And, how does the RS6 Avant differ from the other Audi products?
Andreas Koglin: For us always is important that the RS is the top of the model lineup of a car. Especially in this car, we think it should be the superhero in the lineup. We get the opportunity because it's just sharing three parts with the A6. It's front doors, the roof and the bonnet, not the tailgate. And we have the opportunity to change a lot and to give the car a special character. Our idea was to shift the design closer to super cars, like R8, because the car is 600-horsepower and 800-newton meters of torque.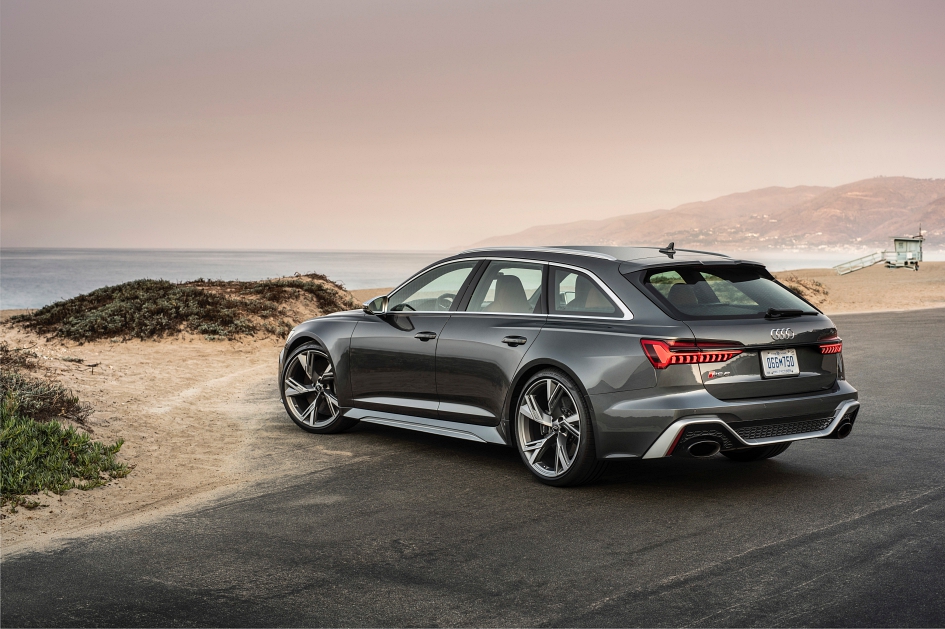 It was actually a fun project for us. What you can see, especially in the front, is what we did on the grill in comparison to the A6. It's much lower, much wider and closer to the ground, so it brings the whole car down more to the ground. We have these wonderful A7 headlights that we choose because first we have more differentiation to the A6, and secondly you got laser light, which is absolutely unique in the segment. The headlights are so sleek that we have a lot of space to create this super powerful air intakes. We think these powerful air intakes are really important to show the power, and it has a function we need for the coolant.
RS 6 Avant is much lower, much wider and closer to the ground
And with a little kink on the side, this gives the car a super powerful stance, so it's really proud and strong standing on a street. We manage to make the car 40-millimeters wider per side. That means in comparison to A6, the RS6 is 80-millimeter wider, which you really can feel when you see the car.
This car is sticking out really like powerful muscles. And, with these 22-inch wheels, it's looking really muscular. Not like a body builder. It's more of an Ironman triathlete, because the RS6 always has many tasks to fulfill. On the one hand it's a powerful sports car you can drive really easy. It's really agile with the four-wheel drive and four-wheel steering. It's really powerful. 600-horsepower as I've said. On the other side, you have a car which gives you every opportunity you'll want when you're with your family. You can do everything you are doing with normal station wagons.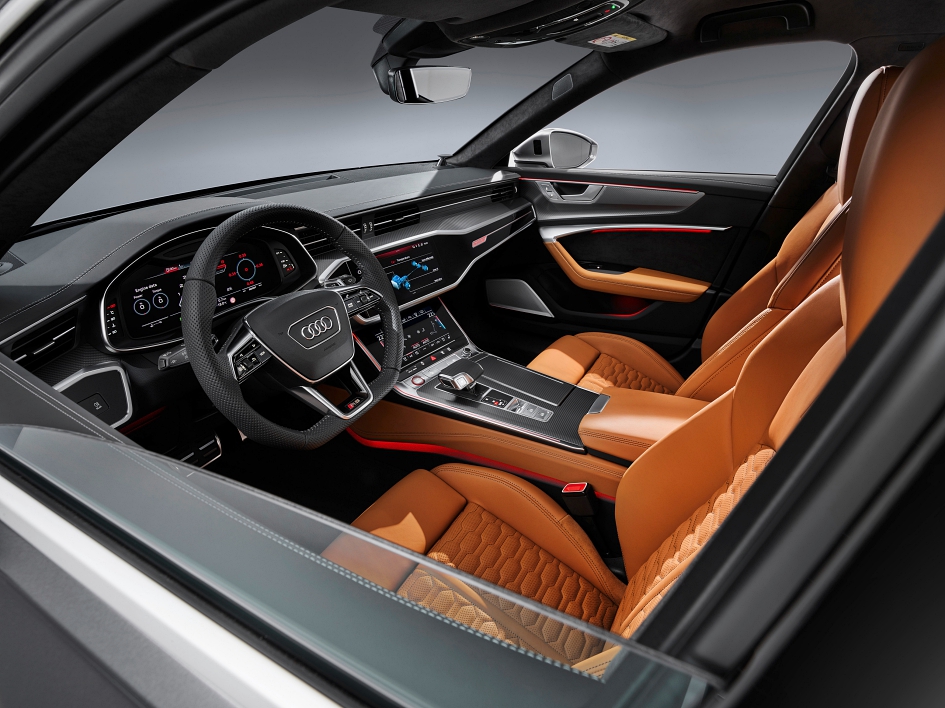 For us to be here, it's a special moment. To be here in California, especially here in Malibu, because surfing got introduced here in California. And for us, it's the first time we are introducing the new RS6 in U.S., as well.
A special button changes the interface and you can set up your own RS modes
We also have a nice anniversary because 25-years ago we introduced the RS2 , which was in collaboration with Porsche. So, the super car feeling was already in there. This is what we are bringing back now in the RS6 as well.
AutoDesignO: The interior of this is a very clean, straightforward design but it has a lot of interesting aspects involved with that…
Andreas Koglin: In the interior, because it's a station wagon and it should have the function of the station wagon, you should feel good by using it every day with your family for all your needs. On the other side we put some details in which underlines the sportiness of the car, like the super sport seat are ventilated. This is something that was not available before and there's a lot of comfort as well. We have two different suspensions for the car, so even in the interior you feel the sportiness, but in different modes you can have it really comfortable as well. For this we have a special button, which changes the interface, and you can set up your own RS modes. So, you have a family mode, really comfy for the kids and the wife, and you have just for your own the super strong and stiff race mode.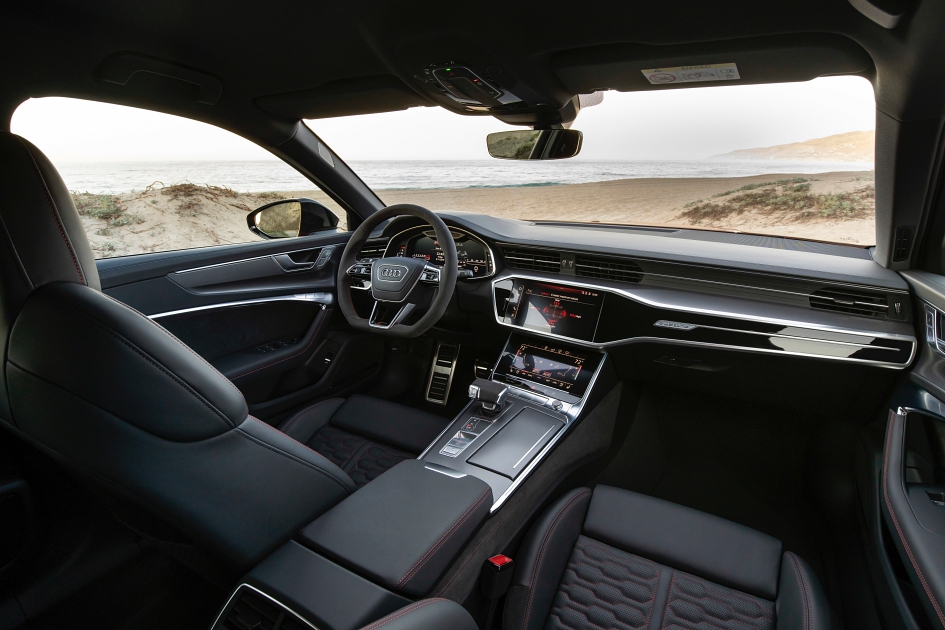 AutoDesignO: This Audi RS6 has gone full-digital on the interior. Very few buttons, really no gauges unless they're digital. How did that decision come about?
It was important to bring all the RS 6 Avant functions without using buttons
Andreas Koglin: We want to highlight an interior that should be clean in architecture. You should feel integrated, you should feel nice, and your focus should be to the street. Everything which is disrupting should not be there. Because our interface digitalization is a big role for us, it was important to bring all the functions without using buttons. Even when you push the screen, you get the feedback. So, it's like the haptic is a button, but still it's digital. We tried to find a premium way of giving both. You have a clean interior when you don't need it [control functions]. When you need it, you push it and it feels like the pushback or the feedback of buttons.
AutoDesignO: And in contrast, the exterior has some bold design elements to it. What's your favorite aspect of the exterior as far as character?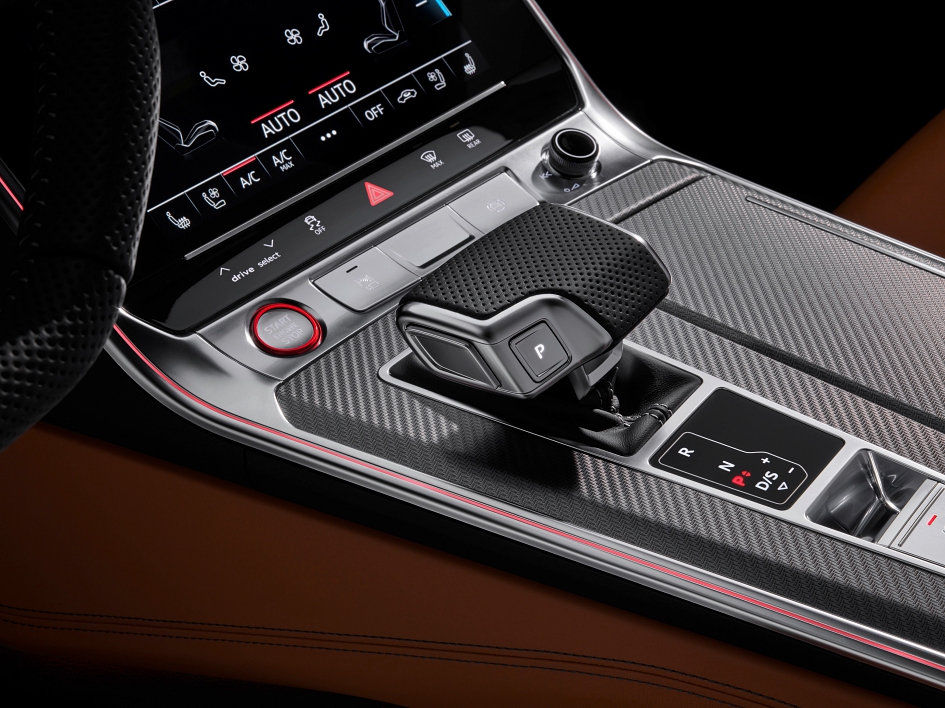 Andreas Koglin: My favorite aspect is that the car stands like a pit bull, really strong and with a good stance. We are really proud of this because with these huge wheels and these powerful fenders it looks like a sketch, how we sketch a car. So, it's really close to the design.
Related Images: